Christian Horner has hit out at the FIA's decision to introduce new aerodynamic regulations for the 2019 F1 season, but Ferrari and Mercedes have supported the planned changes.
In a bid to allow closer racing and improve overtaking, the FIA has confirmed a simplified front wing, simplified front brake duct and a wider and deeper rear wing will be introduced next season.
The move followed complaints from drivers about how difficult it is to follow cars in their current spec, but it is understood the 10 F1 teams were split on the proposal.
FIA confirms 2019 overtaking aids
At the Spanish GP, Red Bull team principal Horner gave a scathing assessment of the new regulations, saying the decision had been "rushed" and would cause the teams' costs to escalate as they overhaul their cars.
"Sometimes this sport has the ability to shoot itself in the foot," Horner told Sky Sports F1.
>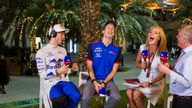 Find out more about Sky Sports F1
Watch every race, qualifying and practice session live with Sky Sports F1 in 2018
"The work that's being done for 2021 is all good stuff. The problem is a snapshot of that has been taken, it hasn't been fully analysed - there are no proven conclusions from it. It's then been rushed into a set of regulations which completely conflict existing regulations so now they're scrapping around trying to tidy that up.
"It just completely changes the philosophy of the car. The front wing will be wider, it will be different. The point that the air meets the car is the front wing and that then changes everything behind it: suspension, bodywork, absolutely every single component.
"We talk about costs and being responsible, what's just been introduced is a completely new concept, a completely new car that will cost millions and millions of pounds.
"I just find it frustrating that decisions are made on zero evidence or zero conclusions, on theories and the burden of costs is passed onto the teams. Is it going to guarantee that the cars can follow closer next year? Probably not."
The 2019 overhaul is expected to increase lap times by around 1.5 seconds and has brought criticism from title rivals Lewis Hamilton and Sebastian Vettel, the latter labelling it "comical" while both suggested drivers should have been consulted on how overtaking could be improved.
>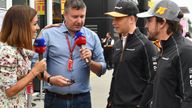 F1 2018: How to watch on Sky F1
On TV, Online, On Demand and on the go...all the ways you can watch every Formula 1 race weekend on Sky Sports F1 this year.
But Ferrari chief technical officer Mattia Binotto said the team felt the changes were the "right choice" and could prove to be a "game changer".
"It is a big change, a drastic change to the rules, to the aero. I think each team will be focused in trying to develop what are the new regulations, it's quite a game changer," Binotto said.
"I think that as a team we have a duty and a task to improve the show, to improve Formula 1. I think that certainly the regulations may be a good step in that respect.
"Overall I think from an egoistic point of view we could have stuck with what we had at the moment but I think that looking at the show and the good for the sport, it was the right choice."