The
Dallas Cowboys should beat up on the New York Giants.
Now that we've gotten that obvious tidbit out of the way, let's discuss why it's completely and utterly irrelevant. The Cowboys currently hold a 6-6 record with their hopes of making the playoffs tenuous at best, needing to win out for a continued shot at landing an NFC Wild Card berth. Even then they'll need a lot of other pieces to fall into place around the conference, but demanding the team in the mirror take care of business is job No. 1.
And that begins with going all-in against a Giants' team now led by Steve Spagnulo, the same coach who manufactured a defense that's held the Cowboys' offense to 15 points per game over the last three contests -- which includes a 2016 sweep of a team who had only three losses at the time under its belt.
**Follow

@VoiceOfTheStar on Twitter for up-to-the-second news and analysis!

**
None of this is to say Big Blue will somehow pull it all together during a 2-10 season where they've benched quarterback
>

, fired head coach
>

and general manager Jerry Reese, named Spagnuolo the interim HC and re-inserted Manning back into the lead role only days ahead of hosting the Cowboys. It is to say Dallas is in no position to presume they won't, unless they want to start discussing the draft in mid-December.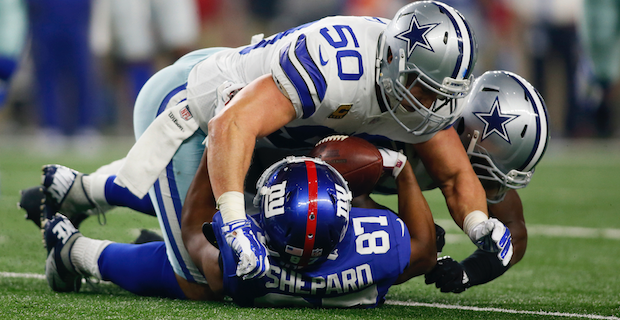 Realistically speaking, the Cowboys should humiliate their longtime foe in New Jersey. The Giants' offense ranks 31st in the NFL above only the Cleveland Browns, scoring a measly 15.8 points per game. Their 89.1 per game rushing average is poor enough for 27th, and their 204.2 passing yards per outing lands them at 22nd overall.
But wait, there's more.
How to watch
When: Sunday at Noon CST
TV: FOX
Stream: fuboTV (Try for free)
Follow: CBS Sports App
New York also boasts the worst defense in the league, their $200M defensive unit allowing the highest yardage in the NFL to the tune of a massive 390.9 points weekly -- which breaks down to 130.7 on the ground and 260.2 in the air. They're also without key pieces on both sides of the ball, from cornerback
>

to wide receivers
Brandon Marshall and
Odell Beckham , Jr.
In other words, the Giants are a very bad team.
The Cowboys, contrarily, will see the return of All-Pro linebacker
>

to the fold after seeing him sidelined the last 3+ games with a(nother) hamstring injury. The team only allows 18 points per game when Lee suits up, versus more than 29 points on average when he doesn't. They'll now go up against a Giants' team who has no playoff spot to contend for, but will fight to play spoiler to the Cowboys.
As if they needed any more incentive to leave it all on the field, Spagnuolo will do everything he can to prove he deserves to remain head coach of the Giants going forward -- so don't expect them to simply lay down and for a bitter enemy whose defeat could save the jobs of both coaches and players this offseason.
There's still some fight left in that nearly-dead dog, so it's best the Cowboys take it out back and give it the Old Yeller treatment early in the game. Otherwise, they may find themselves locked in a car trying to figure out how to kill Cujo.
The two will square off at MetLife Stadium on Dec. 10 at Noon CST.
The lead official will be Walt Anderson with Pam Oliver reporting from the sidelines, while Kevin Burkhardt and Charles Davis rain down commentary and analysis from the booth. If you'll miss the visual but want to listen in nationally, tune into Sirius channels 93 (Dal), 83 (NYG) or 383 (Dal) if you subscribe to XM Radio.
Those who want to become richer, or poorer depending on your luck, should note oddsmakers put the Cowboys at -4.5 point favorites against the Giants,
according to Sportsline, with the over/under at +41. Wage carefully though, considering it's a division game and that's when records mean absolutely nothing.
The Cowboys are scratching and clawing for a run at Super Bowl 52! Don't miss any breaking news,

>take a second to sign up for our FREE Cowboys newsletter!
Trending Hairstyles
Source : https://247sports.com/nfl/dallas-cowboys/Bolt/Dallas-Cowboys-vs-New-York-Giants-How-to-watch-stream-listen-odds-and-more-111848650