Roger Goodell may have bitten off more than he can chew, by not biting at all.
All the NFL world is ablaze following the news of a six-game suspension being heaved on Dallas Cowboys running back
Ezekiel Elliott , for accusations of domestic violence alleged by former girlfriend, Tiffany Thompson. Shortly after delivering the verdict, both Elliott's camp and Cowboys' owner
Jerry Jones were furious -- with the former
promising legal action against the league, but first came the
official appeal filed on Tuesday.
One day prior, Elliott's father took to Twitter and
revealed additional bombshell information that shows Ms. Thompson's clear intent to use race as a prevailing factor in helping her frame Elliott for an assault she now alleges took place.
**Follow

@VoiceOfTheStar on Twitter for up-to-the-second news and analysis!

**
This information, combined with what was already known -- including screenshots of Ms. Thompson coaching her friend to lie about the incident, as well as sworn witness affidavits stating the accuser was in a fist-fight with another woman at a bar the same evening -- beg the question of just how the NFL came to its conclusion to "generally believe" Elliott's ex-girlfriend has any capacity for telling the truth.
"You are a black athlete. I am a white girl. They are not going to believe you," said Thompson, according to a report released by Fort Worth Star-Telegram, and cited by Elliott's father.
To make matters substantially worse, according to

>Pro Football Talk

, Goodell never once met with Ms. Thompson; and was also not present on June 26 when Elliott attended a hearing with the league prior to the closing of its investigation -- as reported initially by
Deadspin. The original report goes on to state the commissioner was also absent from every one of Elliott's disciplinary hearings over the course of the investigation, as he attempted to maintain a safe distance from the proceedings.
This is all far from standard protocol, and casts mountainous doubt on both the accuracy and completion of a probe that dragged on incessantly for 13 months.
From PFT:
"On June 26, 2017, you and your representatives had an opportunity to meet personally with [the four] independent advisors [Peter Harvey, Ken Houston, Tonya Lovelace, and Mary Jo White] to discuss you recollection of the events of the week of July 16, 2016, you relations with [Tiffany] Thompson, the March 2017 [St. Patrick's Day parade] incident, and other issues you and your representatives believed were pertinent to our review," the August 11 letter informing Elliott of his suspension explains. "The advisors had an opportunity to engage directly in discussions with you, and to hear your counsel's assessment of the legal, evidentiary and credibility issues presented in this case."
In essence, it appears the NFL believed simply having the four members of the advisory council interview Elliott was sufficient. The reason this is unacceptable is spring-water clear, as it was Goodell giving the final green light on the decision to suspend. Just how he was able to cast faith on a decision this monumental while operating from a remote location is beyond imagination, particularly giving the blatant accusation that Elliott was lying about how Ms. Thompson acquired the bruises in the first place.
This is also despite the aforementioned affidavits which clearly detail a very physical bar altercation taking place not long before the alleged occurrence of domestic violence.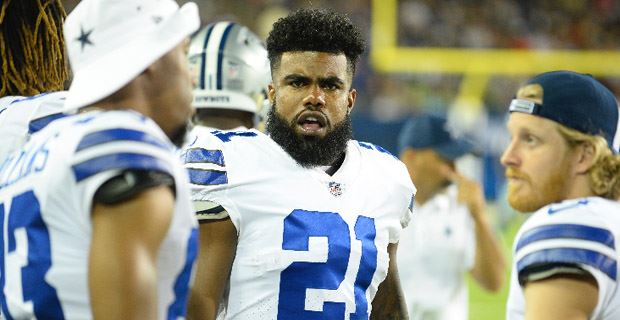 _______________________________________________________________________________________________
So, let's recap then, shall we?
Goodell says Elliott is lying,
because the panel believed he was. The panel believes such because Elliott can't prove he did not hit Ms. Thompson which, to them, means he must have. Court documents explain from what event the bruises likely originated, including a sworn statement from the head of security at the establishment wherein the altercation took place.
The NFL states officially there was only hair-pulling involved in that fight, but there's no way they read the sworn affidavit from witnesses and came to that conclusion -- considering those documents detail punches landed as well as Ms. Thompson being "slapped" in the face.
Furthering the incredibility of Elliott's accuser are the below screenshots of text messages between her and a friend, as mentioned above:
So you're talking about pics of bruises Elliott allegedly caused, but here's some proof of her definitely lying. Get those tweets off tho. pic.twitter.com/sePRcaREYO

— Patrik Walker (@VoiceOfTheStar) August 12, 2017
The screenshots are also a matter of court record --
seen in the full report here --  so what exactly did the advisory panel use to build their case?
A criminal court in Columbus (OH) saw right through the accusation, but the panel turned a blind eye to the documents presented to the lead prosecutor and instead went with the word of Ms. Thompson and witnesses whose unsworn testimony to the league somehow apparently trumps what was said under penalty of perjury in 2016.
Adding insult to injury, Elliott reportedly
filed a harassment complaint with police against Ms. Thompson on September 5, 2016 -- weeks after the case was dismissed in court -- after she called him "50+ times" between 2:30am and 10am one morning. The league has stated they're also aware of this information. In the court documents is also a sworn affidavit from a witness who visited with both Elliott and Ms. Thompson each day during the week of July 16 to July 22, when she alleges she was beaten.
The witness notes under penalty of perjury Ms. Thompson had no "bruises, scratches or scrapes" at any point that week, going so far as to note she wore a tank top, exposing most of her upper body -- yet, she was without sign of physical harm until the evening of July 22.
It was also that evening, as documented, wherein Ms. Thompson was in the aforementioned bar brawl -- drawing a very short and logical line from the bruises to the originating source.
So not only did the NFL apparently cherry pick evidence and witnesses to potentially serve their want of handing down a punishment, but Goodell wasn't even involved in the process until it was time to render a decision -- on information that was incomplete, inaccurate and completely void of his face-to-face interaction with the accused.
In the interim, Jones was adamant there was no case for domestic violence to be made, and stated he expected no suspension at all to be handed down. The year-long probe wore his patience wafer-thin as well, with him also reportedly confronting the lead investigator, Lisa Friel, at the owner's meeting in Arizona.
The NFL has now also
reportedly refused to make their 160-page report available for public dissection, in what has now become a childish game of Factual Hide-and-Seek. They are attempting to lean on the metadata gleaned from Ms. Thompson's phone, but in doing so opened themselves up to the revelation that very data includes a plot between Ms. Thompson and her friend to extort Elliott for upwards of $20,000 -- using alleged sex tapes as the preferred item of blackmail.
The friend subsequently says she has "literally no idea" what she told NFL investigators about that conversation, and claims to not remember having it at all.
Convenient.
And now the NFL is labeling anyone who points out the obvious credibility issues in the accuser as "shameful", in a failed attempt at vilifying anyone who challenges their ruling and predicating process.
**For a complete audio breakdown of each piece of evidence,
_______________________________________________________________________________________________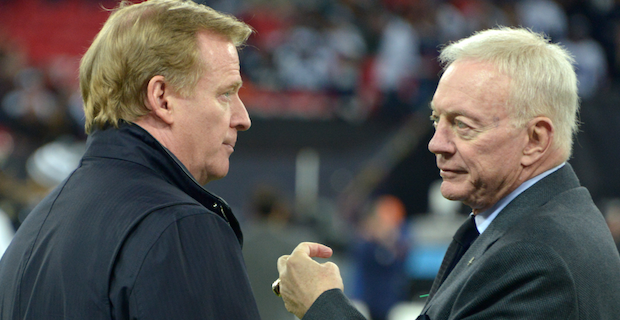 At best the process and subsequent decision reeks of gross negligence, and at worst it bears the appearance of malicious intent with a potential goal of striking a huge public relations win in the realm of domestic violence. In considering the initial mishandling of a case like that of former kicker Josh Brown -- an admitted abuser with several recorded incidents landing just a one-game suspension to start -- it's not difficult to draw that conclusion here.
All signs point to no assault having ever took place between Elliott and Ms. Thompson, despite what the panel told Goodell to believe.
Maybe if he was actually present and abreast of all the facts, versus fighting to avoid blame for the outcome of the investigation, Elliott wouldn't be facing a monumental financial loss, a tarnished reputation and a potential lifetime ban from the game of football should one more accusation of this nature rear its head.
Or maybe he still would be, given the stated obvious regarding the league needing to look tough on the issue of domestic violence. Maybe that's why Goodell truly wasn't involved: He already had his mind made up to begin with.
And all he needed was "enough" to make his verdict feel like it was the right one.
This all sets a very dangerous precedent, with the NFL now sending the message that an allegation in-and-of itself is sufficient to derail a player's life -- because if you can't prove you didn't commit the crime, then clearly you did. With so much to lose, it's no small wonder Elliott is willing to take this fight as far as it'll go.
It's just too bad Goodell and the NFL didn't have the same passion when it came to discovering the truth in the first place. And by trying to sidestep one bullet, he may have inadvertently stepped in the path of a bigger one.
It's always fun until the rabbit has the gun.
The Cowboys are gearing up for a run at Super Bowl 52! Don't miss any breaking news,

>take a second to sign up for our FREE Cowboys newsletter!
Trending Hairstyles
Source : https://247sports.com/nfl/dallas-cowboys/Bolt/The-NFL-botched-the-probe-into-Dallas-Cowboys-RB-Ezekiel-Elliott-106138969