Suppliers of special trackwork components know what railroads want from them. Products that are safe to install. Products that minimize the impact on the track and other trackwork components. Products that last longer.
Accordingly, railroads expect their suppliers to innovate.
Special trackwork suppliers believe they're doing just that.
We recently checked in with more than a dozen special trackwork component suppliers. Six companies — voestalpine Nortrak Inc., Progress Rail, Koppers, Atlantic Track, L.B. Foster Co. and Vossloh North America — shared information via email. Products they detailed range from rail braces to lift switches and lift frogs to bonded insulated rail joints to guard rail assemblies to switch points and crossing diamonds.
voestalpine Nortrak Inc.: ClickTite Rail Brace
Many railroads install new turnouts as pre-assembled turnout panels. During cutover, complete panels are lifted, carried and set into place.
"Despite substantial productivity advantages, this installation method is dependent upon the rail braces maintaining secure clamping of the stock rails while facing forces five times normal service loads," said voestalpine Nortrak Inc. officials.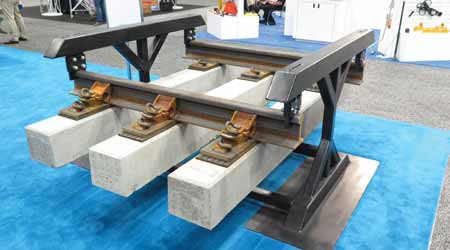 The ClickTite™ Rail Brace uses a tapered wedge to apply the primary clamping force and doesn't require the clamping force of an e-clip to secure the rail.
voestalpine nortrak Inc.
Braces that aren't designed to withstand these installation forces risk allowing the stock rail to roll out of the seat and the corresponding ties to disengage from the stock rails, they added.
"Even if brace failure happens once out of a handful of installations, the consequences can be severe," company officials said. "The delays can overrun work blocks, delay trains and present a safety hazard to nearby employees."
To overcome this issue, voestalpine Nortrak Inc. developed the ClickTite™ Rail Brace. It uses a tapered wedge to apply the primary clamping force and doesn't require the clamping force of an e-clip to secure the rail. When the tapered wedge is driven underneath the lip of the brace, it causes the brace to pivot toward the rail and apply a downward force onto the rail base.
"Extensive testing has shown that this design results in about 50 percent more resistance to rail roll-out, which places it beyond the maximum moment that can be exerted on a rail brace during panel installation," company officials said.
Progress Rail: Vertical lift switch and lift frog
When Progress Rail's Vertical Lift Switch and Lift Frog are used in combination, the turnout becomes "invisible to traffic running on the mainline — creating continuous service, with virtually no maintenance required," according to company officials. Progress Rail's first vertical lift switch was installed five years ago for a Class I on a 100 million-gross-ton freight and passenger line that has service speeds up to 79 mph.
Designed primarily for switches with limited divergent movement, the vertical lift switch and lift frog eliminate the traditional vertical interface with the wheel and switch point.
Both track technologies have been designed for set out tracks, low volume or seasonal sidings and heavy haul applications, such as grain elevator usage, company officials said. Transit applications include emergency crossovers.
Available in No. 9, 10 and 11 frog sizes for 5 ½- or 6-inch rail bases, the Lift Frog meets the Association of American Railroads' plate "C" equipment diagram for above rail clearance.
Requirements include a shimmed high guard rail on the turnout side and frog gauge plates; shimming allows the axle to remain parallel when negotiating the turnout. No mainline guard rail is needed.
Koppers: Two bonded insulated rail joints
The key to extending reliable service life of bonded insulated rail joints is to improve bond strength and overall joint stiffness, and Koppers offers two styles of bonded insulated joints that "employ innovative structural designs to significantly enhance these key components," company officials said.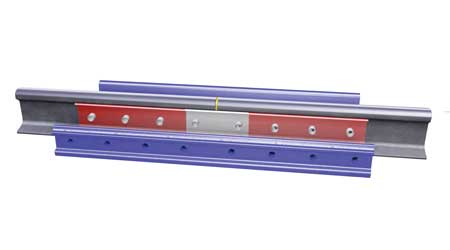 The advanced design of the patented CENTER LINER® bonded joint increases joint stiffness and extends joint longevity by integrating a high-strength insulator within the center area of the joint, Koppers says.
Koppers
The advanced design of the patented CENTER LINER® bonded joint increases joint stiffness and extends joint longevity by integrating a high-strength insulator within the center area of the joint, company officials said.
The mechanical wedging action created by the fit between the joint bars, the CENTER LINER® insulator and the rail delays unzipping that typically begins at the high stress end post area.
"This joint design is proven to last approximately two to three times longer than typical six-hole bonded insulated joints," Koppers officials said.
A more advanced patented bonded insulated joint, the Short Angle Projection™ (SAP) is designed to increase longitudinal and vertical joint strength compared with traditional bonded insulated joint designs.
The staggered end post halves connected with a short angle cut rail head profile allows for smoother wheel transition from rail to rail versus traversing the conventional 90-degree end post gap, company officials said. The smooth transition minimizes joint shock loads, vibration, noise and rail end batter.
The bond strength of the SAP joint is "significantly stronger" than conventional bonded joints, Koppers officials said. In addition, the bent rail design creates a rail web section to provide "greater rail head support and superior overall joint stiffness approaching that of solid rail," they added.
Atlantic Track: U-69 Guard Rail assembly
At Atlantic Track, new product development is a top priority, company officials said.
"While we continue to introduce new special trackwork products to the railroad industry this year, we are already planning to introduce new products for 2019-2020, as well," they said.
First, for 2018, the company introduced the U-69 Guard Rail assembly, which has fewer parts and requires less track time to install. In addition, "slight changes were made to the spiking arrangement to better facilitate installation" on the turnout's divergent side, company officials said, adding that the improvements were incorporated without compromising the performance of the guard rail.
"All of the design changes were inspired by customer comments and feedback," Atlantic Track officials said.
Meanwhile, the company also is diversifying its product line. New transit products have been developed "and will soon be made available to mass transit and streetcar customers," officials said.
Through the rest of 2018 and into 2019, Atlantic Track plans to equip its plants with additional CNC and robotic work centers. The aim: "to better meet customers' expectations and material requirements," company officials said.
L.B. Foster Co.: High-performance insulated rail joints
L.B. Foster Co. designs and manufactures a line of high-performance insulated rail joints for use in special trackwork and mainline track throughout North America.
"A key requirement of the railway industry is for long-lasting, highly reliable insulated rail joints," said L.B. Foster Director of Rail Sid Shue in an email. "L.B. Foster works extensively with heavy-haul railroads as well as transit agencies to design insulated rail joints to meet those challenging demands. And with the industry's continued focus on the implementation of positive train control, we have been supplying transition insulated joints, manufactured as either a standard insulated joint or a high performance insulated joint, depending on specific customer requirements."
The company's special trackwork and mainline insulated rail joints can be furnished in either a bonded or poly kit form, plug form or preassembled to customer furnished prefabricated or machined rails. They're available as premium or super-premium models for extended service life.
To complement the installation, L.B. Foster also produces a range of special insulated rail joint plates, either in solid polyurethane and polyurethane/forged steel designs, canted or uncanted.
"Our super-premium model with an insulated rail joint plate, high modulus joint bars and ceramic end posts is marketed as the ENDURA-JOINT® insulated rail joint," Shue said. "Class I railroads continue to increase their adoption of these higher value-added products."
The company also manufactures many other different types of insulated joints, including double rail joints for turnouts and crossing diamonds, insulated joints for girder rail profiles and U69/U33 guard rails.
Vossloh North America: Plant expansion in Memphis
Vossloh North America has recently approved upgrades to its existing Cleveland Track Material production facility in Memphis, Tennessee.
"This expansion will allow increased production capacity, improved lead times and a more competitive logistic location to Class I railroads and our transit customers," Vossloh officials said.
Specifically, the plant will offer higher output for all trackwork products, including switch points, frogs, transition rails and panelized turnouts.
Vossloh also has facilities in Cleveland and Reading, Pennsylvania.
In addition, the company's portfolio of special trackwork products includes:
• crossings and crossing diamonds;
• special trackwork assemblies;
• brace and plating systems;
• guard rails; and
• a variety of rail joints — straight bars, compromise joints, bridge joints and expansion joints, according to the company's website. n
Email comments or questions to prograil@tradepress.com.
Trending Hairstyles
Source : https://www.progressiverailroading.com/mow/article/In-the-special-trackwork-realm-innovation-comes-in-various-shapes-sizes--54617