The head of Theresa May's policy board has resigned amid calls for a radical shake-up of the Tory party.
Mid Norfolk MP George Freeman has stepped down from his role as chair of the Number 10 policy board to concentrate on reforming the party, in another blow to Theresa May's weakened administration.
Mr Freeman, who made headlines by organising a 'Tory Glastonbury' for party activists in the summer, said Conservative chairman Patrick McLoughlin needed to be replaced and called for a new team at CCHQ to rejuvenate the party.
Tory MP George Freeman: 'Proper socialist' Jeremy Corbyn is now a 'real threat' to Theresa May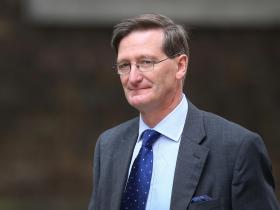 >
Dominic Grieve accuses Tory MPs of becoming 'unhinged' over Brexit
It comes in the wake of several high-profile departures from Ms May's top team, as Sir Michael Fallon stood down as Defence Secretary amid sexual harassment allegations while International Development Secretary Priti Patel was also forced to resign for holding a string of secret meetings with senior Israeli figures.
Mr Freeman had clashed with Downing Street on the party's direction and wrote to Ms May saying the Tories risked alienating young voters if it allowed itself to be "defined as narrow party of nostalgia, hard Brexit, public sector austerity and lazy privilege".
Writing on the website >ConservativeHome, he said: "I've stood down as Chair of the Prime Minister's Policy Board in Number Ten, to focus on my role as Chair of the Conservative Policy Forum.  
"We need a strong Conservative forum and voice – outside of, but heard inside, Government."
Mr Freeman said an "ambitious" programme of party reform was needed to reconnect with younger voters in the wake of the Tories' "ill-conceived" general election campaign.
Read more
Labour seized on the news as evidence of further chaos under Ms May's leadership, claiming it showed the "lazy privilege" at the top of the party.
Shadow Cabinet Office minister Jon Trickett said: "For a man who once said that the 'raison d' être' of his role in No.10 was to face the challenge of renewal in office, his resignation speaks volumes on the current state of the Tories in Government.
"He has caught the essence of the Conservative Party in a two word phrase: lazy privilege. It tells you all that's wrong with Theresa May's Government because they are working for the few, while Labour is working for the many."
However Mr Freeman took to Twitter to condemn their comments as "Labour troublemaking", adding: "I agreed with No10 in July to review the role of the Policy Board after Conference, and last week we agreed to wind up the Board in No10 and focus on my work as Chair of the Conservative Policy Forum on party renewal."
UK news in pictures
UK news in pictures
1/50

23 March 2018

Michel Barnier kisses Theresa May's hand as they arrive at the EU Summit in Brussels.

Rex

2/50

22 March 2018

Emergency services workers lay flowers and pay their respects at Parliament Square in Westminster on the anniversary of the Westminster Bridge attack in London.

Reuters

3/50

21 March 2018

The Fishing for Leave boat passes the Houses of Parliament on the River Thames, during a protest where fish were discarded into the Thames.

PA

4/50

20 March 2018

Houses sit on the cliff edge on The Marrams in Hemsby, as thirteen homes on the sandy cliffs have been evacuated amid fears they could topple into the sea, with further high tides and strong winds forecast. The residents of the properties in Norfolk were forced to leave over the weekend, Great Yarmouth Borough Council said.

PA

5/50

19 March 2018

Activists show their support outside of Chelmsford Crown Court for the 'Stansted 15', a group prosecuted under terrorism-related charges after blocking a mass deportation charter flight in April 2017

William Prior

6/50

18 March 2018

Sadiq Khan, Imelda Staunton, Gloria Hunniford at the annual Saint Patrick's Day parade in London.

Rex

7/50

17 March 2018

Fans make their way through a snow shower to Molineux Stadium ahead of the Sky Bet Championship match between Wolverhampton Wanderers and Burton Albion. Amber warnings for snow and ice have been issued by the Met Office ahead of a cold snap dubbed the "mini beast from the east".

PA

8/50

16 March 2018

Britain's Foreign Secretary Boris Johnson and the Polish Foreign Minister Jacek Czaputowicz visit a Battle of Britain bunker at RAF Northolt in Uxbridge.

Reuters

9/50

15 March 2018

Britain's Prime Minister Theresa May talks with Wiltshire Police's Chief Constable Kier Pritchard as she is shown the police tent covering the bench in Salisbury, where former Russian double agent Sergei Skripal and his daughter Yulia were discovered on March 4, following an apparent nerve agent attack. Britain expelled 23 Russian diplomats over the nerve agent poisoning and suspended high-level contacts, including for the World Cup on March 14. Theresa May told parliament that Russia had failed to respond to her demand for an explanation on how a Soviet-designed chemical, Novichok, was used in Salisbury.

AFP/Getty

10/50

14 March 2018

A man prepares to lay flowers outside Gonville and Caius College, at Cambridge University following the death of British physicist, Stephen Hawking, who was a fellow of the University for over 50 years. The flag over the college flew at half-mast as students and academics came to pay tribute after his death.

AFP/Getty

11/50

13 March 2018

The crowd looks on during Cheltenham Festival Champion Day.

Rex

12/50

12 March 2018

A police officer on duty near a protective tent which covers the bench where a man and woman were apparently poisoned with what was later identified as a nerve agent, in Salisbury.

AFP/Getty

13/50

11 March 2018

Protesters against the Turkish war on Syrian Kurds in Afrin block the tracks at Manchester Piccadilly station bringing rail services in and out of the terminal to a halt.

PA

14/50

10 March 2018

Royal Air Force Police dog Tornado leaps through a set of hoops on day three of the Crufts dog show at the NEC Arena in Birmingham.

Getty

15/50

9 March 2018

Labour leader Jeremy Corbyn, with Scottish Labour leader Richard Leonard, during a visit to Abertay University in Dundee, prior to his address to delegates at the Scottish Labour Party Conference in the city's Caird Hall.

PA

16/50

8 March 2018

Britain's Foreign Secretary Boris Johnson sits with Year 1 pupils during a visit to St Leonard's Church of England Primary Academy in Hastings.

Reuters

17/50

7 March 2018

Electronic billboards show adverts for Saudi Crown Prince Mohammed bin Salman with the hashtag '#ANewSaudiArabia' in London.

Getty

18/50

6 March 2018

A police officer stands guard outside a branch of the Italian chain restaurant Zizzi close to The Maltings shopping centre in Salisbury, which was closed in connection to the ongoing major incident sparked after a man and a woman were found critically ill on a bench at the shopping centre on 4 March.

AFP/Getty

19/50

5 March 2018

Gary Oldman, winner of the Best Actor award for 'Darkest Hour,' poses with his award in the press room during the 90th Annual Academy Awards at Hollywood & Highland Center.

Getty

20/50

4 March 2018

Great Britain's Andrew Pozzi celebrates winning the men's 60m hurdles final as Aries Merritt of United States looks dejected during the IAAF World Indoor Championships at Arena Birmingham.

Getty/IAAF

21/50

3 March 2018

People playing with their sledges in Greenwich Park, east London, as the cold weather continues around the country.

PA

22/50

2 March 2018

Theresa May delivers a speech about her vision for Brexit at Mansion House.

Reuters

23/50

1 March 2018

'The Couple', a sculpture by Sean Henry, braves the snow in Newbiggin-By-The-Sea in Northumberland, as storm Emma, rolling in from the Atlantic, looks poised to meet the Beast from the East's chilly Russian air.

PA Wire/PA Images

24/50

28 February 2018

The scene on the M80 Haggs in Glasgow, as the highest level of weather warning has been issued for Scotland and Ireland as forecasters warn of "blizzard-like" conditions. A red alert for Munster and Leinster in the Republic of Ireland and the central belt of Scotland has been put out for heavy snow and strong winds. Dublin, Kildare, Louth, Wicklow and Meath are also covered by a red warning, which was issued early on Wednesday morning.

PA

25/50

27 February 2018

Icicles hang from a frozen elephant fountain in Colchester. Freezing weather conditions dubbed the "Beast from the East" has seen snow and sub-zero temperatures hit the UK.

Getty Images

26/50

26 February 2018

Labour leader Jeremy Corbyn makes a keynote speech as he sets out Labour's position on Brexit, at the National Transport Design Centre in Coventry. Jeremy Corbyn's Brexit speech confirmed that a Labour Government would negotiate full tariff-free access to EU markets for UK business.

Getty

27/50

25 February 2018

Victims of the Northern Ireland Troubles come together to take part in the Time for truth march through Belfast city centre against the stalled efforts in dealing with Northern Ireland's legacy issues.

Rex

28/50

24 February 2018

Oxford University Boat Club race in preparation for The Cancer Research UK Boat Race 2018, Oxford University Boat Club race Oxford Brookes University in London, England.

Getty

29/50

23 February 2018

Former BHS owner Dominic Chappell leaves Barkingside Magistrates Court after being given a £87,170 fine in Barking, England. Mr Chappell, who was in charge of BHS for a year before it went bust, was found guilty of failing to provide information demanded by The Pensions Regulator.

Getty

30/50

22 February 2018

Youths chase after the leather ball during the annual 'Fastern Eve Handba' event in Jedburgh's High Street in the Scottish Borders in Jedburgh, Scotland. The annual event, which started in the 1700's, takes place today and involves two teams, the Uppies (residents from the higher part of Jedburgh) and the Doonies (residents from the lower part of Jedburgh) getting the ball to either the top or bottom of the town. The ball which is made of leather, stuffed with straw and decorated with ribbons is thrown into the crowd to begin the game.

Getty

31/50

21 February 2018

An anti-Brexit campaign battle bus drives through Westminster in London, England. The crowd-funded coach is to tour the country making 33 stops two years after the Vote Leave campaign drove a similar bus around the UK with the now famous slogan: 'We send the EU £350 million a week let's fund our NHS instead'.

Getty

32/50

20 February 2018

Sarah Clarke is introduced as the new Black Rod to the House of Lords. She is the first female Black Rod in the 650-year history of the role and will be known as the Lady Usher of the Black Rod.

PA

33/50

19 February 2018

Britain's Foreign Secretary Boris Johnson holds a rhinoceros horn as he visits a Metropolitan Police wildlife crime unit facility in London. The Foreign Secretary's visit was to help him learn more about the work they do internationally to tackle the illegal wildlife trade (IWT).

AFP/Getty

34/50

18 February 2018

Allison Janney, Daniel Kaluuya and Gary Oldman clutching their BAFTA awards

Rex

35/50

17 February 2018

Lizzy Yarnold of Great Britain celebrates after winning the gold medal during the Women's Skeleton on day eight of the PyeongChang 2018 Winter Olympic Games

Getty

36/50

16 February 2018

Models walk the runway at the Richard Malone show during London Fashion Week

Ian Gavan/BFC/Getty

37/50

15 February 2018

Dame Vivienne Westwood walks the runway to model in the #INEOSVTHEPEOPLE catwalk presentation outside fracking giant INEOS's headquarters in London

Getty

38/50

14 February 2018

Foreign Secretary Boris Johnson delivers his speech: Road to Brexit, a United Kingdom, as part of the Government's road map on Brexit, at the Policy Exchange, London

PA

39/50

13 February 2018

England and Durham cricketer Ben Stokes, 26, leaving Bristol Magistrates' Court, where he was told he will face a crown court trial over an altercation outside a nightclub

PA

40/50

12 February 2018

Labour leader Jeremy Corbyn meets with local party supporters and residents in Penicuik, Midlothian, before speaking at a campaign rally at the town's Miners Welfare Hall

PA

41/50

9 February 2018

Volunteers create a heart shaped collection of plastic bottles littering the foreshore of the River Thames at Queenhithe Dock in central London, in an event organised by the #OneLess campaign and Thames21 to draw attention to the impact that single-use plastic water bottles are having on the environment.

PA

42/50

8 February 2018

Florist Hank Roling poses with a Vanda orchid during a press preview of the Thai Orchid Festival at Kew Gardens, London

Getty

43/50

7 February 2018

A staff member poses behind a moon jellyfish tank during the annual stock-take at London Zoo.

AP

44/50

6 February 2018

Prime Minister Theresa May joins female Members of both Houses at the Palace of Westminster, to mark the 100th anniversary of the passing of the Representation of the People Act, which gave certain women over the age of 30 a vote and the right to stand for Parliament.

UK Parliament/Jessica Taylor/PA

45/50

5 February 2018

Lauri Love outside the Royal Courts of Justice after a judge ruled against extraditing him to America in a case where he was accused of hacking thousands of US government computers.

AP

46/50

4 February 2018

A statue of suffragette Alice Hawkins being unveiled in Market Square, Leicester. Ms Hawkins, a shoe machinist, was jailed five times while leading the Suffragette campaign in the city in the early 20th Century.

PA

47/50

3 February 2018

Demonstrators gather on Gover Street in central London ahead of a march towards Downing Street to protest against underfunding and privatisation of the NHS and demand an end to the winter crisis in the health service.

Rex

48/50

2 February 2018

Millicent Fawcett by Annie Swynnerton, newly on display at Tate Britain. Fawcett was a leading figure in the suffragist movement and campaigned relentlessly to get the vote for women in this country. The portrait of her is on display at Tate Britain to mark the centenary of the Representation of the People Act, which gave women over 30 the right to vote.

Rex

49/50

1 February 2018

British Prime Minister Theresa May and husband Philip May visit the Forbidden City in Beijing during her three-day visit to China.

Getty

50/50

31 January 2018

A super moon rises behind blocks of flats in north London.

Reuters
The Tory MP was originally appointed to chair the Number 10 policy board when Ms May became Prime Minister last July, although it is understood it has not been re-established since the general election.
The Conservative Party has been approached for comment.
Trending Hairstyles
Source : http://www.independent.co.uk/news/uk/politics/george-freeman-resigns-theresa-may-head-of-policy-unit-government-a8065731.html