The head of Theresa May's policy board has resigned amid calls for a radical shake-up of the Tory party.
Mid Norfolk MP George Freeman has stepped down from his role as chair of the Number 10 policy board to concentrate on reforming the party, in another blow to Theresa May's weakened administration.
Mr Freeman, who made headlines by organising a 'Tory Glastonbury' for party activists in the summer, said Conservative chairman Patrick McLoughlin needed to be replaced and called for a new team at CCHQ to rejuvenate the party.
Tory MP George Freeman: 'Proper socialist' Jeremy Corbyn is now a 'real threat' to Theresa May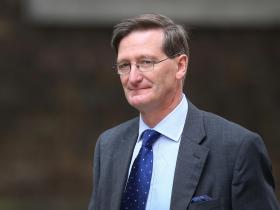 >
Dominic Grieve accuses Tory MPs of becoming 'unhinged' over Brexit
It comes in the wake of several high-profile departures from Ms May's top team, as Sir Michael Fallon stood down as Defence Secretary amid sexual harassment allegations while International Development Secretary Priti Patel was also forced to resign for holding a string of secret meetings with senior Israeli figures.
Mr Freeman had clashed with Downing Street on the party's direction and wrote to Ms May saying the Tories risked alienating young voters if it allowed itself to be "defined as narrow party of nostalgia, hard Brexit, public sector austerity and lazy privilege".
Writing on the website >ConservativeHome, he said: "I've stood down as Chair of the Prime Minister's Policy Board in Number Ten, to focus on my role as Chair of the Conservative Policy Forum.  
"We need a strong Conservative forum and voice – outside of, but heard inside, Government."
Mr Freeman said an "ambitious" programme of party reform was needed to reconnect with younger voters in the wake of the Tories' "ill-conceived" general election campaign.
Read more
Labour seized on the news as evidence of further chaos under Ms May's leadership, claiming it showed the "lazy privilege" at the top of the party.
Shadow Cabinet Office minister Jon Trickett said: "For a man who once said that the 'raison d' être' of his role in No.10 was to face the challenge of renewal in office, his resignation speaks volumes on the current state of the Tories in Government.
"He has caught the essence of the Conservative Party in a two word phrase: lazy privilege. It tells you all that's wrong with Theresa May's Government because they are working for the few, while Labour is working for the many."
However Mr Freeman took to Twitter to condemn their comments as "Labour troublemaking", adding: "I agreed with No10 in July to review the role of the Policy Board after Conference, and last week we agreed to wind up the Board in No10 and focus on my work as Chair of the Conservative Policy Forum on party renewal."
UK news in pictures
UK news in pictures
1/46

15 December 2017

Jonny Bairstow of England headbutts his helmet to celebrate his century during day two of the Third Test match in the 2017/18 Ashes Series between Australia and England at the WACA in Perth, Australia. Bairstow was embroiled in controversy at the beginning of the tour after lightly headbutting Australian opening batsman Cameron Bancroft in an exchange in a bar

2/46

14 December 2017

People at the Grenfell Tower National Memorial Service

PA

3/46

13 December 2017

Wax figures of Prime Minister Theresa May and Foreign Secretary Boris Johnson wearing a Christmas Jumper at Madame Tussauds

EPA

4/46

12 December 2017

Victims and family of victims of the Grenfell Tower fire, Nicholas Burton (left), Sandra Ruiz (second right), Karim Mussilhy (right) and a girl who asked not be named (second left), hand in a petition to Downing Street, asking for an overhaul of the public inquiry.

PA

5/46

11 December 2017

A homeless man on the streets of Manchester. Many people are spending the night on the streets in freezing temperatures as the Met Office continues to issue weather warnings across the country. The Shelter charity has said that more than 300,000 are now homeless across Britain, equating to the population of a city the size of Newcastle

Getty

6/46

10 December 2017

Pedestrians walk over the Millennium Bridge with St Paul's Cathedral pictured in the background as snow falls

AFP/Getty Images

7/46

9 December 2017

British Foreign Secretary Boris Johnson, left, and Secretary of Iran's Supreme National Security Council Ali Shamkhani, right, with interpreter at centre, during their meeting in Tehran, Iran. Johnson is expected to discuss the fate of detained British-Iranian woman Nazanin Zaghari-Ratcliffe, who is serving a five-year prison sentence for allegedly plotting to overthrow Iran's government.

AP

8/46

8 December 2017

British Prime Minister Theresa May (L) and European Commission President Jean-Claude Juncker address a press conference at the European Commission in Brussels

AFP/Getty Images

9/46

7 December 2017

Nick Dunn, one of the so-called Chennai Six is greeted by his sister Lisa as he arrives at Newcastle Airport after being released from India after serving four years in jail on weapons charges.

PA

10/46

6 December 2017

Britain's Queen Elizabeth II (L) greets Nigeria's ambassador to the United Kingdom, George Adesola Oguntade (C), and his wife, Modupe Oguntade, during a private audience at Buckingham Palace in central London

AFP/Getty

11/46

5 December 2017

800 abandoned buckets appear at Potters Field Park, London, in a moving tribute to the 800 children who die every day, on average, due to a lack of clean water and sanitation. Just one bucket in the installation, part of WaterAid's #Untapped appeal, could hold almost enough safe drinking water for one child for a week. Every £1 donated to the #Untapped appeal until 31st January 2018 will be matched by the UK Government.

WaterAid / Ollie Dixon

12/46

4 December 2017

British Prime Minister Theresa May smiles to European Union President Donald Tusk as she attends Brexit negotiations' meetings

AFP/Getty

13/46

3 December 2017

The last Supermoon of 2017 sets over Whitley Bay, Northumberland

PA

14/46

2 December 2017

The crowd reacts as England's Dawid Malan fails to stop a boundary during the first day of the second Ashes test match

REUTERS

15/46

1 December 2017

England manager, Gareth Southgate, jokes with Belgium manager, Roberto Martinez, after their sides were drawn in the same group during the Final Draw for the 2018 FIFA World Cup in Russia

Getty Images

16/46

30 November 2017

A supporter of Lauri Love, who is accused of hacking into U.S. government computers, wears a Donald Trump mask as he protests in front of the Royal Courts of Justice in London

AP

17/46

29 November 2017

A sign reading 'We want our future back' is displayed in front of Westminster during an Anti-Brexit Demonstration

Rex Features

18/46

28 November 2017

This year's innovative V&A Christmas Tree, The Singing Tree, is shaped from a cloud of floating words, contributed by visitors, and is created by leading stage and performance designer Es Devlin.

Rex Features

19/46

27 November 2017

David Jones and Margaret Tyler wait outside Kensington Palace after hearing about the engagement of Prince Harry and Meghan Markle

Rex

20/46

26 November 2017

Sailors from the Royal Navy perform the Changing of the Guard ceremony at Buckingham Palace for the first time in its 357-year history

PA

21/46

25 November 2017

Arlene Foster gives her leader's speech during the annual DUP party conference at La Mon House

Getty Images

22/46

24 November 2017

Ex-England footballer Michael Owen prior to riding in a charity race at Ascot racecourse

Rex

23/46

23 November 2017

Shoppers pass a promotional sign for 'Black Friday' sales discounts on Oxford Street

AFP/Getty

24/46

22 November 2017

Britain's Chancellor of the Exchequer Phillip Hammond poses with the budget box at 11 Downing Street

EPA

25/46

21 November 2017

Protestors hold up a banner during a protest held in solidarity with the University of London cleaners' strike

Petros Elia

26/46

20 November 2017

British Prime Minister Theresa May greets Ghana's President Nana Akufo-Addo outside number 10 Downing Street

Getty

27/46

19 November 2017

Grigor Dimitrov reacts to winning the Men's Singles Final with the trophy, during day eight of the NITTO ATP World Tour Finals at the O2 Arena in London

PA

28/46

18 November 2017

Central Scotland MSP Richard Leonard is congratulated by Glasgow MSP Anas Sarwar at the Glasgow Science Centre after he was announced as the new leader of Scottish Labour

Jane Barlow/PA

29/46

17 November 2017

British Military Working Dog Mali poses for a photograph with his handler, Cpl. Daniel Hatley, after receiving the PDSA Dickin Medal, the animal equivalent of the Victoria Cross, for his heroic action in Afghanistan

Reuters

30/46

16 November 2017

Theresa May chats with resident Val Lay during a visit to a housing estate in London

AFP/Getty

31/46

15 November 2017

Richard Radcliffe leaves the Foreign Office with his local MP Tulip Siddiq, following a meeting with Foreign Secretary Boris Johnson

Marc Ward/REX

32/46

14 November 2017

Four-time Olympic champion Sir Mo Farah after being awarded a Knighthood by Queen Elizabeth II

PA

33/46

13 November 2017

Restoration work continues on the Palace of Westminster

Photographs by Reuters/Getty/iStock

34/46

12 November 2017

A veteran takes his hat off during the Remembrance Sunday Cenotaph wreathe laying ceremony

REUTERS

35/46

11 November 2017

Members of the Western Front Association during a service at the Cenotaph to mark the Armistice Day

EPA

36/46

10 November 2017

David Davis and Michel Barnier

REUTERS

37/46

9 November 2017

Britain's newly appointed Secretary of State for International Development, Penny Mordaunt, leaves Downing Street

AP

38/46

8 November 2017

Priti Patel leaves number 10 Downing street through the back entrance

EPA

39/46

7 November 2017

School children and their teacher from Thomas Tallis School look at pictures on display at the Red Star Over Russia exhibition at the Tate Modern in London

Philip Toscano/PA

40/46

6 November 2017

A cast of The Wrestlers, two men taking part in the Greek sport pankration, is lowered into place at Natural Trust's Stowe Landscape Garden near Buckingham

PA

41/46

5 November 2017

Protesters in Trafalgar Square, London, during the Million Mask March bonfire night protest

PA

42/46

4 November 2017

Protestors take part in the 'Justice Now: Make it Right for Palestine' march, organised by the Palestine Solidarity Campaign, in central London

PA

43/46

3 November 2017

People queue outside an Apple store in London to purchase the new iPhone X upon its release in the U.K. The iPhone X is positioned as a high-end, model intended to showcase advanced technologies such as wireless charging, OLED display, dual cameras and a face recognition unlock system

Getty

44/46

2 November 2017

British Prime Minister Theresa May greets Israeli Prime Minister Benjamin Netanyahu outside 10 Downing Street in London. The pair are today celebrating the centenary of a British declaration that ultimately led to the foundation of the state of Israel

Getty

45/46

1 November 2017

Mammatus clouds over St Mary's Lighthouse in Whitley Bay, Northumberland

Owen Humphreys/PA

46/46

31 October 2017

Women protest outside Downing Street as they join a demonstration demanding rights for working mothers

Getty Images
The Tory MP was originally appointed to chair the Number 10 policy board when Ms May became Prime Minister last July, although it is understood it has not been re-established since the general election.
The Conservative Party has been approached for comment.
Trending Hairstyles
Source : http://www.independent.co.uk/news/uk/politics/george-freeman-resigns-theresa-may-head-of-policy-unit-government-a8065731.html