Whether you're a runner trying to race the clock, or a walker who'd just like to fit more mountains into the day, these top tips from Claire Maxted should help you up the pace on rough ground or steep slopes.
---
Gliding over tough terrain, smooth descending and effortless uphills are not just the preserve of the super-athletic, lungs-on-legs in their tiny, tiny shorts. Whatever your fitness level, you too can increase your average speed in the mountains with a few simple techniques that will make you a more efficient walker or runner. Try these to summit that extra peak with ease, tackle longer distance trails and enjoy every step of that gut-lurchingly steep steep hill. Once you've saved all that time, you'll have even longer to soak up the views - waves of mountain upon mountain, stretching into a toothy horizon. Or more time for another pint before last orders. Your call…
>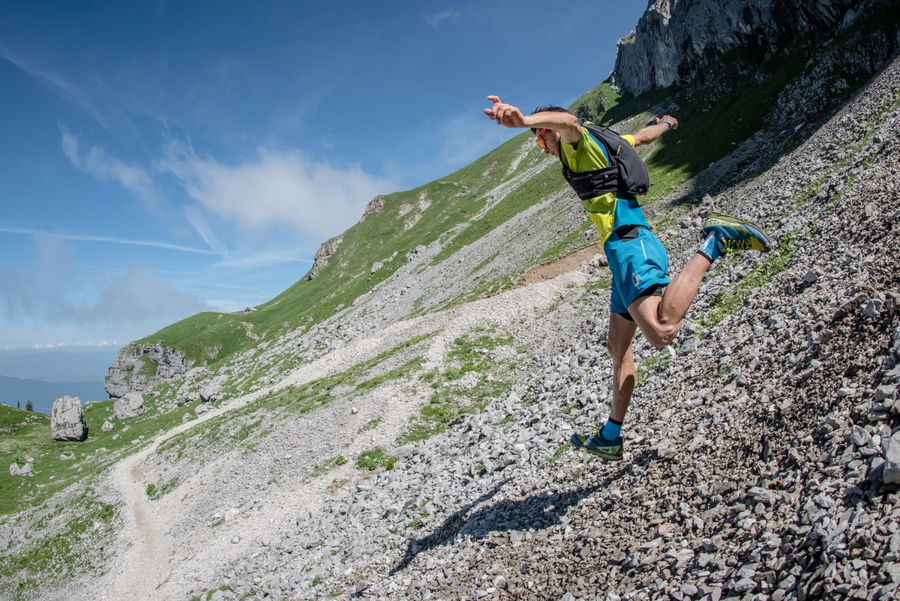 Learn to move with the scree
© Scott Sports
"Imagine running on eggshells or hot coals to help you become light on your feet with a fast cadence"
1 Look ahead
Forward planning is the name of the game for speeding up over the rough stuff at all angles. "Try to keep relatively upright with relaxed shoulders, looking 2-5m ahead to pick a good line rather than down at your feet," advises coach Dave Taylor from www.fellrunningguide.co.uk. "Lift your feet higher to step over the uneven ground, and aim for a cadence of 170 steps per minute to prevent over-striding."
2 Trust your feet
Whether it's uphill, downhill or flat as a pancake, trusting your feet will see you flying along unpredictable trails with confidence. "Choose the right footwear for the terrain," says Jez Bragg, The North Face endurance athlete and 2010 Ultra Trail du Mont Blanc winner. "A snug fit and good grip is key for speeding up, and a lighter shoe can help both physically and mentally, but do be aware that this can mean less cushioning and protection from rocks."
Shoes you can rely on are a must, but if you're new to running be careful not to go for too small a drop, too soon. The concept of drop is explained in our article How to Go From Hillwalker to Fell Runner.
>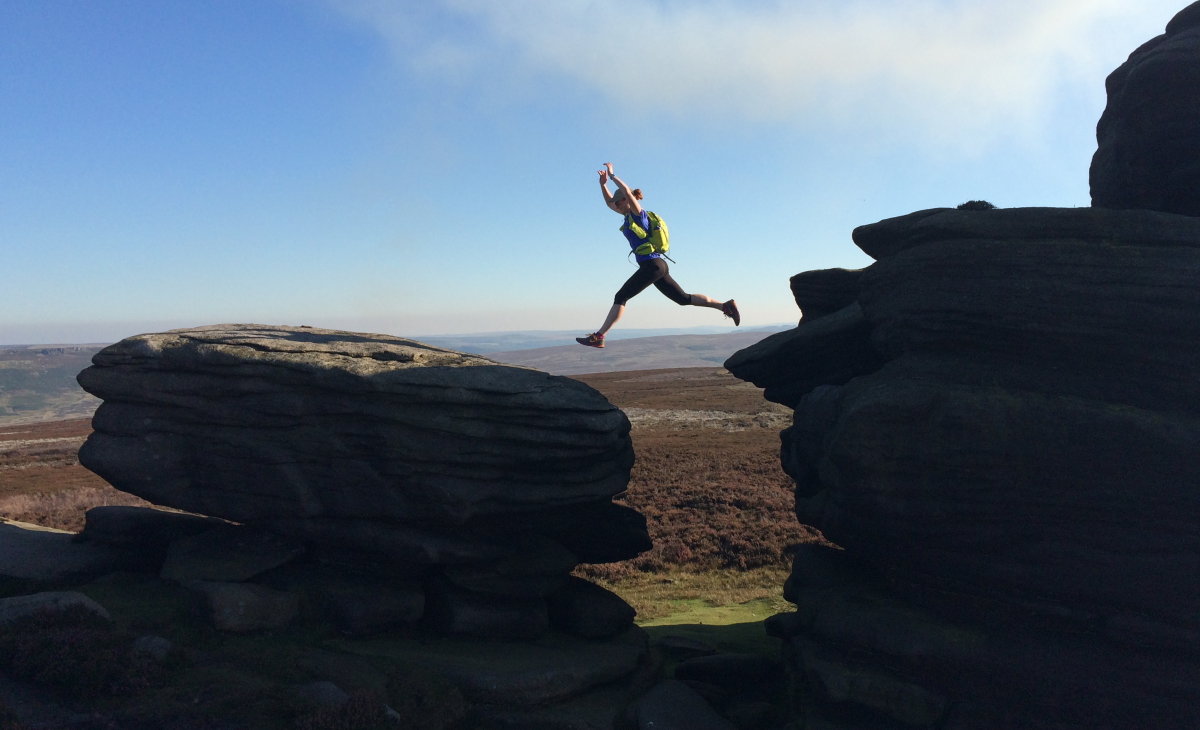 Trust your shoes
© Claire Maxted
3 Get go-faster kit
Dubbed 'cheating sticks' by some fell runners, poles are actually very popular in European trail races for good reason; used correctly, a lightweight pair boost pace and delay fatigue by sharing some of the load and aiding balance. They can also help power you along. For tips on how to use poles when walking see this UKH article: then if you're running, just speed up the action. You'd be wise to get a quick-folding pair so you can stow them easily for any awkward hands-on-rock terrain. Some might also look to stow their poles for steep hands-on-knees ascents, or rocky descents - though others will find them perfect for both ups and downs, giving an upper body boost to your uphill locomotion and reducing chances of trips or injuries on fast downhills. We covered a selection of lightweight compact poles in a recent review - see here.
Additional kit to consider for winter would include lightweight crampons or ice grippers. Icy conditions are a hazard for runners, but on the upside they do effectively pave over speed-sapping bogs. Double Everest summiteer Kilian Jornet says, "You need to wear ice-spikes on hard snow and slippery ice for any traction, but if you get caught on a patch without them, take small steps as you would on wet rock."
4 Maintain good posture
A few miles in, you'll need to keep reminding your body maintain its speediest position.
"Bad posture means your muscles have to work harder," says running technique coach Shane Benzie. "So run 'tall' with a lengthened spine and levelled pelvis to make sure your core is engaged for maximum skeletal support and structural efficiency. Lean from the ankles rather than the hips to let gravity aid propulsion." Imagine you have a helium balloon attached to the top of your head, pulling you up, then fall forward from the ankles and run.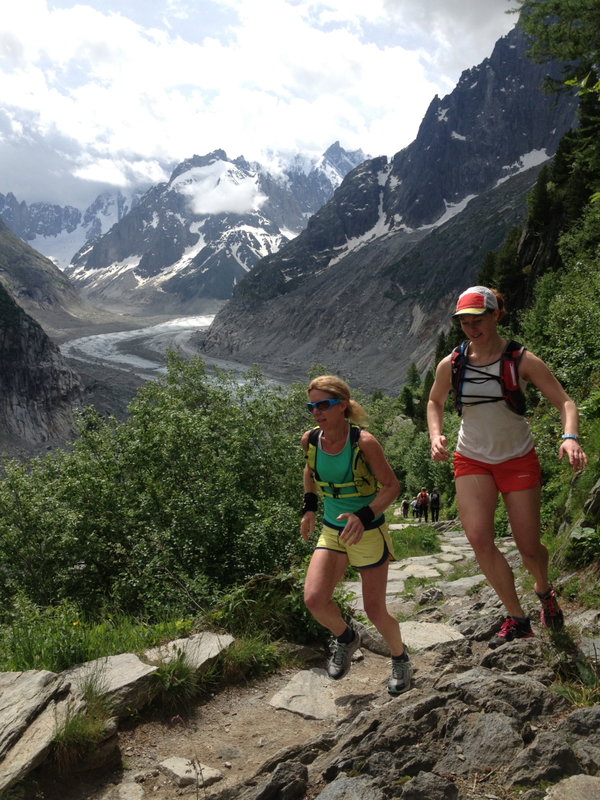 Try to run 'tall'
© Claire Maxted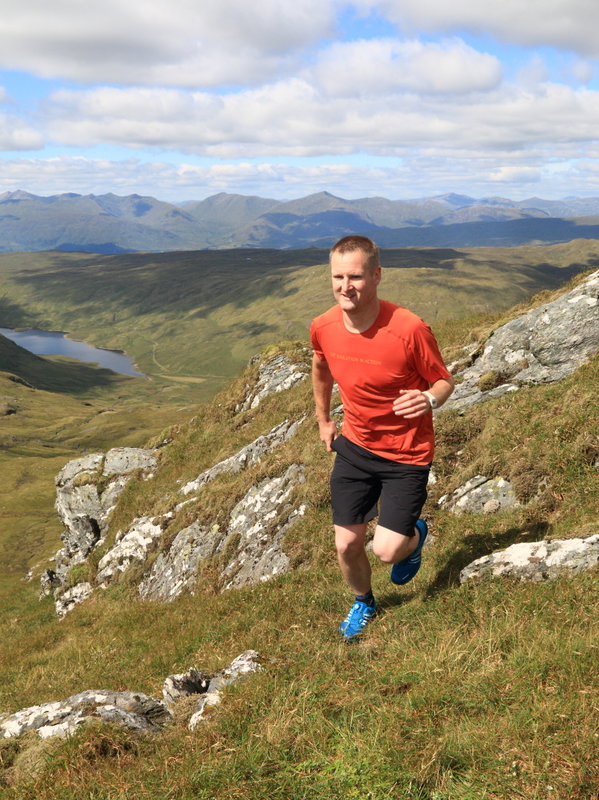 Keep looking ahead
© Dan Bailey
5 Quicken your cadence
Short, fast steps will have you sailing swan-like over the lumpiest terrain. "Technical terrain like rocky ground, steep slippery slopes, tree roots, mud and ice are the hardest conditions to deal with," says fell running coach Dave Taylor. "Here, again look ahead and increase your cadence, taking short, fast steps to cope with the uneven stride pattern mixing long, short and sideways steps. Think of your foot landing just in front of your hips rather than way out in front and try to land on your mid-foot to get the most grip from your shoes. Glide over the ground with dainty steps rather than crashing along. Imagine running on eggshells or hot coals to help you become light on your feet with a fast cadence."
6 Avoid the boggiest spots
We've all done it - almost lost a shoe to a deep-sucking bog that slows you to a standstill. After many a muddy Peak District run, Coach Dave Taylor has the answer. "Aim for the driest line in a bog - look for certain colours of or types of vegetation depending on the area - you'll soon find out! Or leap across the deepest bits."
>
on boggy ground
© johnhenderson, Mar 2009
7 Perfect your uphills
Knock minutes, even hours off your total ascent with the right stride and body position. "Shorten your stride, taking baby steps," says inov8 athlete Ben Abdelnoor. "Speed uphill is about how quickly you can return each foot to the floor to push off again. Keep a relaxed posture - release your neck, un-hunch your shoulders and un-clench your hands."
Coach Stuart Hale from off-road running store Accelerate, Sheffield adds: "Never bend at the hips into the hill," he says, "This constricts your lungs. Rather, stay more upright, back straight, and lean into the hill slightly from the ankles. Push from the ball of your foot, using your calves to power your legs. Try not to waste energy twisting your pelvis from side to side too much and finally, drive with your arms for momentum."
8 Nail your downhills
The more you practice this technique, the more confident and speedier you will become. Fell running coach Dave Taylor advises, "Lean slightly forward, look slightly ahead not at your feet so you can pick the best line or route down, relax your arms to aid balance, move your feet quickly, lightly, with short strides and plant your feet in places of maximum grip." Look for the natural steps in a downhill - aim for patches of solidifying grass on muddy slopes, for instance, or use projecting rock edges as steps; avoid slippery, flat rocks angled downhill, and steer clear of wet roots.
>
Trail runners on heading for Sgùrr Fiòna from Bidean a' Ghlas Thuill on An Teallach
© AlexFrood, May 2014
Trusting your feet and shoes as per point 2 has a lot to do with fast downhills. "Speed relies on the ability to let go," says Jezz Bragg. "So have faith in your ability and be confident enough to commit. It can be counter productive to brake too much as it wears your legs out quickly."
9 Move with moving ground
If you've ever been skiing, you won't be as alarmed by this useful technique to keep you moving fast. World Skyrunning Champion and ski-racer Kilian Jornet says, "With mud and snow, don't be afraid to glide like skiing, sliding with each footstep, keeping your balance. Scree is also a soft, moving surface, so just go with it. Look far ahead, like 20m and remember to look ahead for larger, immovable rocks that need dodging around. On grass you can take big steps, and a bit like the mud, don't be afraid to slide, balancing as if you are on skis. If you fall it's soft, so you can just roll and keep going! For rocky trails, you never quite know if a rock will move or not, or be slippery, so take short steps so there is less pressure on each foot placement and you are always ready to jump to the next."
10 Corner quicker
Unleash your inner Lewis Hamilton with fell running coach Dave Taylor's advice: "Take a wide approach, slow down and shorten your stride as you hit the corner," he says. "Look ahead not down to determine the easiest line out of the corner and use short, fast strides with a powerful arm drive to get back up to speed, like a sprinter leaving the blocks."
>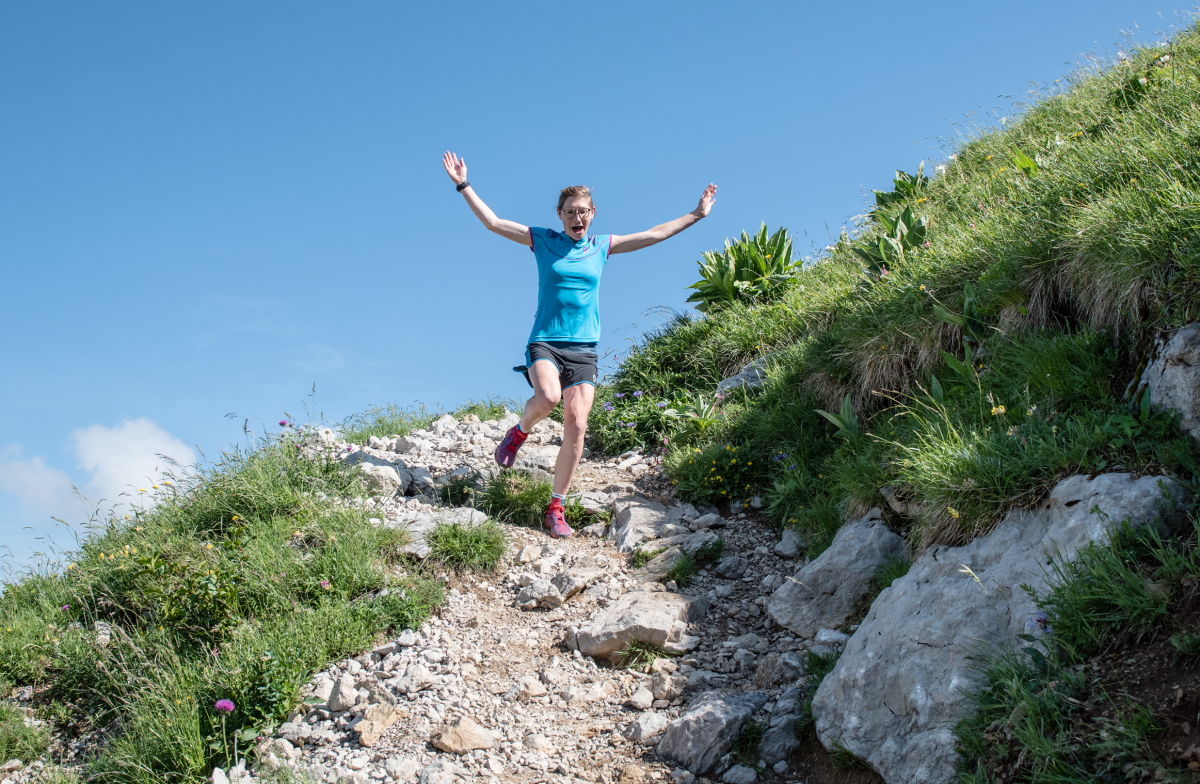 Don't forget to enjoy yourself!
© Scott Sports
Bonus tip 11 - have fun!
Finally, a psychological technique here - enjoying yourself is the key to moving faster and more efficiently whatever the ground throws at you. In the words of the planet's best trail runner Kilian Jornet, "You must relax and have fun so your muscles do not tense up and tire quickly." So there you have it. Maybe that should be tip number one…
---
About Claire Maxted
Claire Maxted is the co-founder and former editor of Trail Running magazine, the UK's only bi-monthly dedicated to the exciting, adventurous and muddy world of off-road running. She now has a YouTube channel, Wild Ginger Films, providing off-road running advice, athlete interviews, gear tests and race recces. Claire also gives talks, hosts athlete Q+As and presents film coverage at big races such as the Montane Spine Race and OMM. She is also a personal trainer, having set up Stamford Trail & Ultra Club (STUC) where she is based, and she coaches beginner to improver trail runners.
>
Claire at the Keswick Mountain Festival marathon

© James Kirby

UKH Articles and Gear Reviews by Claire Maxted

Forums (

> Read more

|

1 comments, 08 Sep 2017

)

This

article

has been read

1,926 times

> Return to

Latest Articles

or list other

> Hill Skills articles

> Share

this article on Facebook

> Share this article on Twitter
Related posts
>
How to go From Hillwalker to Fell Runner
Fell running is a surprisingly simple transition from hillwalking, says Claire Maxted - it's just lighter and faster! If you have...
6 Jul > 20 Comments
Read more >
Arc'teryx Aptin Shorts & Phasic Evolution T-Shirt
The Aptin Shorts and Phasic Evolution T-Shirt are new to the 2017 Arc'teryx line-up; they may not be a budget option, but they go...
20 Jun > 29 Comments
Read more >
>
Trail & Fell Running in the Lake District Guidebook
Lakes-based fell runner John Fleetwood looks at the new Cicerone guide to running in the Lake District. There may not be much...
9 Jun > 2 Comments
Read more >
Interview: Jim Mann on the Winter Rounds Triple
Over one month Jim Mann pulled off an impressive feat of hill running endurance, completing each of the UK's big three rounds in...
6 Mar
Read more >
>
Alpkit Running Gear
From her local fell race to the Lakes Sky Ultra, Bridget Glaister looks at a selection of women's running clothing from Alpkit
Trending Hairstyles
Source : https://www.ukhillwalking.com/articles/page.php?id=9602