1Q 2017 Hard Assets Equities Strategy Review
During the quarter, VanEck's hard assets strategy returned -3.50% (measured by VanEck Global Hard Assets Fund, Class A (MUTF:GHAAX), excluding sales charge). On a relative basis, the strategy outperformed its commodity equities-based benchmark index, the Standard & Poor's® (S&P) North American Natural Resources Sector Index (SPGINRTR),1 which returned -4.25% in the first quarter.
The better news is that 12-month trailing performance as of 3/31/17 was very robust, with the hard assets investment strategy posting a 24.27% gain and besting its benchmark which returned 17.93%. Click here for details on performance.
The largest contributions to positive performance came from, collectively, positions in Diversified Metals & Mining, where companies capitalized on robust emerging markets demand and continued to benefit from a tightening in supply for a number of underlying metals. The largest detractors from overall performance on the quarter were Oil & Gas Exploration & Production Companies which suffered from, in general, a period of meaningful profit-taking after a strong year of performance and a decline in the price of oil.
Market Review
In the early stages of a cyclical rebound from a deep downturn, it is not surprising to see, as we did this past quarter, mixed performance among the industry's sub-sectors (the movement from an inflection point into a rebound is not always linear). Still, we believe that the three pillars of the next commodity bull market (technical, macroeconomic, and fundamental) are firmly anchored in place.
Technical: Cyclically, we are still in the early stages of a rebound from one of the deepest downturns that we have seen in the history of the natural resources industry.
Macroeconomic: We continue to see a tilt in sentiment on the global economy from pervasive negativity towards cautious optimism. In fact, we may be experiencing an inflection in global economic factors. For example, China's economy appears to be improving, India has demonetized, Brazil's economy also appears to be on the mend, and there are positive signs of growth in Mexico.
% of Global Purchasing Manager Indices ("PMIs") in Expansion Territory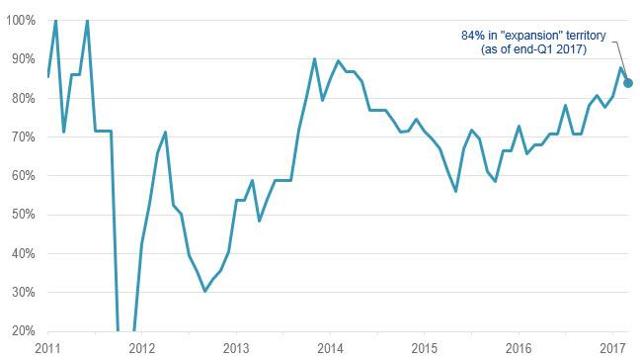 >
Source: Haver Analytics; Bloomberg; Renaissance Macro Research.
Data as of March 31, 2017. Not intended to be a forecast of future events or a guarantee of future results or investment advice.
Fundamental: The corporate restructuring that has been taking place over the past two-and-a-half years (a significant part of which involved deep cuts in capital expenditure) has essentially drawn to a close. As a consequence, we are now seeing supply tightness in many of the commodities in which we are involved and a slight shift toward growth initiatives, driven by an increase in investment expenditures. With the best balance sheets and cost structures they have seen in generations, many companies are now generating, on a relative basis, a great deal of cash.
Natural Resources Sub-Sector Review
Energy: The crude oil market just started to rebalance at the end of the quarter. We expect this to continue throughout the second quarter as refineries come out of maintenance (and start to draw down crude) and there is an uptick in global gasoline demand. While there was some skepticism about OPEC's ability to maintain its announced reduced levels of production, they have been maintained, and may even be extended.
Gold: After a disappointing close to 2016, the gold market has regained momentum during the first quarter of 2017. Concerns over the current geopolitical environment, particularly regarding the new administration's ability to implement pro-growth initiatives in the U.S., have been some of the primary drivers of gold and gold equities thus far this year.
Diversified Metals & Mining: Mining companies capitalized on robust emerging markets demand during the quarter. In addition, the copper market saw supply disruptions and the zinc market experienced tightening supply. With demand also solid in both China and the U.S., we are seeing steady global demand for commodities catching up, or balancing, with limited supply growth.
Top Quarterly Contributors/Detractors
In the first quarter, the top contributing companies continued to see positive results from restructuring initiatives and strong commodity prices, while the detractors were primarily impacted by asset flows and the decline in oil price.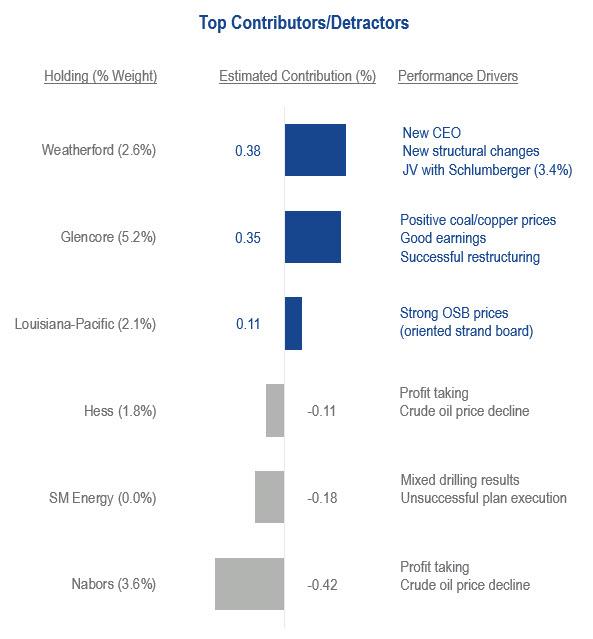 Source: FactSet; VanEck. Data as of March 31, 2017.
Weights denoted with "0.0%" indicate a position sold during the quarter. Contribution figures are gross of fees, non-transaction based and therefore estimates only. Figures may not correspond with published performance information based on NAV per share. Past performance is not indicative of future results. Portfolio holdings may changes over time. These are not recommendations to buy or sell any security.
Outlook: Still Bouncing Back from Historic Downturn
At the close of this first quarter of 2017, we believe that it is vitally important to remember that we are still only roughly a year into the recovery from one of the most historic downturns ever experienced in the natural resources industry.
This rebound continues to be fueled by the relentless increase in global consumption for most commodities and the never-ending struggle on supply to satisfy this demand. Certainly, the draconian capital expenditure cuts of the last several years have impacted global output. However, the real benefit from industry-wide and corporate restructuring activities has been that many companies have optimized operations, increased productivity, and dramatically improved profitability. In turn, this has resulted in higher quality, lower risk investment opportunities. While this phenomenon is not being universally realized by all corporations or recognized by all market participants (and, thus, does not guarantee a smooth increase in shareholder value), we believe the long-term, secular nature of these changes will ultimately generate attractive returns.
Investment in Commodities Can Address Rising Inflation Concerns
Despite this improving fundamental outlook for commodities and natural resources equities, by far the most pressing issue among the clients and investors we have visited with over the past several months is the emergence of inflation and the search for the optimal strategies to help mitigate this risk. While inflation has not been an overly impactful aspect of the global economy for some time, commodities and natural resources equities have historically exhibited a strong link to inflation, performing well in both rising interest rate environments and during periods of higher-than-average growth in general consumer prices levels. In the past, and under most circumstances, when inflation has risen above 2% - the current target of many central banks - commodities and natural resources equities have been an attractive investment alternative.
Commodities and Natural Resources Equities vs. Rising Rates
1969-2015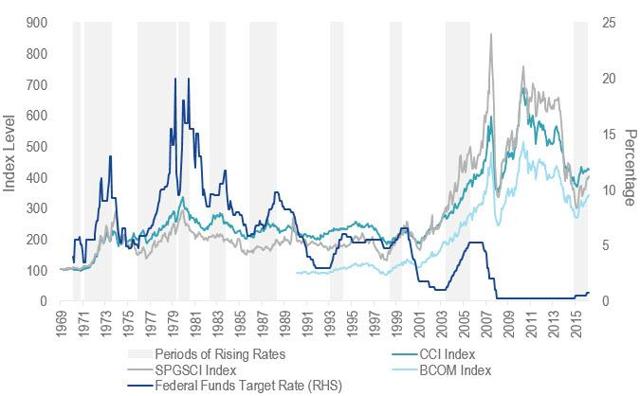 >
Source: VanEck; Bloomberg. Data as of February 2017. Charts are for illustrative purposes only. Past performance does not guarantee future results.
Consumer Price Index (CPI) vs. Commodity Prices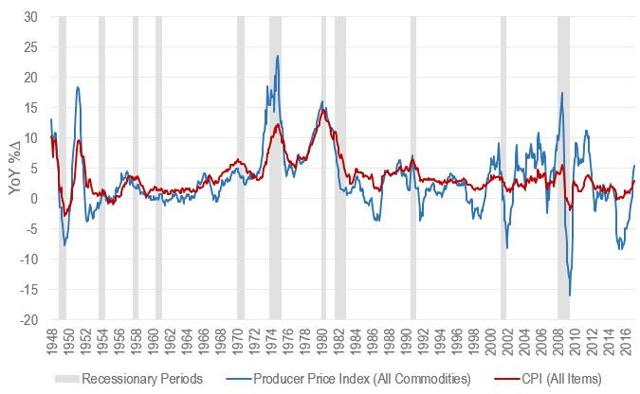 >
Source: Federal Reserve Bank of St. Louis. Data as of February 2017. Charts are for illustrative purposes only. Past performance does not guarantee future results.
We Favor Investment Ideas that Deliver Long-Term Structural Growth
One of the main principles of our investment philosophy continues to be to look for investment ideas that can deliver long-term structural growth and an eventual increase in intrinsic value. Since we remain convinced that positioning our portfolios for the future, and not just reacting to current circumstance, is of paramount importance, our focus across the sectors in which we invest remains on companies that can navigate commodity price volatility, inflation risks, and the intrinsic volatility of the markets to help grow sustainable shareholder value.
Important Disclosure
1The S&P North American Natural Resources Sector (SPGINRTR) Index (the "Index") provides investors with a benchmark that represents U.S. traded securities that are classified under the GICS® energy and materials sector excluding the chemicals industry; and steel sub-industry.
The Purchasing Managers' Index (PMI) is an indicator of the economic health of the manufacturing sector. The PMI is based on five major indicators: new orders, inventory levels, production, supplier deliveries and the employment environment. CCI Index is the Continuous Commodity Index, now known as the Thomson Reuters Equal Weight Commodity Index, comprises 17 commodity futures that are continuously rebalanced. The S&P GSCI Index (SPGSCI) comprises 24 commodities from all commodity sectors - energy products, industrial metals, agricultural products, livestock products and precious metals. The Bloomberg Commodity Index (BCOM) is made up of 22 exchange-traded futures and currently represents 20 commodities. The Federal Funds Target Rate is the interest rate at which a depository institution lends funds maintained at the Federal Reserve to another depository institution overnight. The Consumer Price Index (CPI) is a measure that examines the weighted average of prices of a basket of consumer goods and services, such as transportation, food and medical care. It is calculated by taking price changes for each item in the predetermined basket of goods and averaging them. The Producer Price index (PPI) is a family of indexes that measures the average change in selling prices received by domestic producers of goods and services over time.
This content is published in the United States for residents of specified countries. Investors are subject to securities and tax regulations within their applicable jurisdictions that are not addressed on this content. Nothing in this content should be considered a solicitation to buy or an offer to sell shares of any investment in any jurisdiction where the offer or solicitation would be unlawful under the securities laws of such jurisdiction, nor is it intended as investment, tax, financial, or legal advice. Investors should seek such professional advice for their particular situation and jurisdiction.
You can obtain more specific information on VanEck strategies by visiting Investment Strategies. The views and opinions expressed are those of the speaker(s) and are current as of the posting date. Commentaries are general in nature and should not be construed as investment advice. Opinions are subject to change with market conditions. All performance information is historical and is not a guarantee of future results.
Please note that Van Eck Securities Corporation offers investment portfolios that invest in the asset class(es) mentioned in this post. Commodities are assets that have tangible properties, such as oil, metals, and agriculture. Commodities and commodity-linked derivatives may be affected by overall market movements and other factors that affect the value of a particular industry or commodity such as weather, disease, embargoes or political or regulatory developments. Risks may also include investing in wholly owned subsidiary, risk of tracking error, risks of aggressive investment techniques, leverage risk, counterparty risks, non-diversification risk, credit risk, concentration risk, and market risk. Diversification does not assure a profit nor protect against loss.
Investing involves risk, including possible loss of principal. An investor should consider investment objectives, risks, charges and expenses of any investment strategy carefully before investing. No part of this material may be reproduced in any form, or referred to in any other publication, without express written permission of Van Eck Securities Corporation.
Trending Hairstyles
Source : https://seekingalpha.com/article/4064046-improved-global-economy-sustains-early-rebound