"If someone doesn't value evidence, what evidence are you going to provide to prove that they should value it? If someone doesn't value logic, what logical argument could you provide to show the importance of logic?" ― Sam Harris
Those words exemplify the backdrop that has been the signature of this bull market. Markets move higher, not many understand or believe, because they get caught up in issues that ignore the evidence. Then proceed to act illogically, jumping to conclusions that never come to pass.

Simplicity is a good thing when dealing with the complexities of investing. Many market participants seem to have the desire to keep their methodology complex. It gives them a perception of being in control. It's awfully difficult to be in total control of something as complex as the stock market. Therefore, I choose not to attempt that. Keeping it simple gives me flexibility, and that is what is more important in a difficult conflicted environment that the equity market presents. It streamlines the thought process when faced with making a decision.
The complex situation that the markets brings to us is also the reason many feel the need to challenge it with a complex approach. Sometimes the more indicators, tools, and things a person needs to change as the market is changing can lead one down a path that conjures up things that aren't there. Oh, how we have seen that play out in the last few years.
What it boils down to is that many investors are doing things that take a lot of time, and at the end of the day makes no sense, and gives them no edge. There is no perfect strategy, it doesn't exist in the investment world. One has to form their plan by coming to the realization of what matters and what doesn't.

The most successful investors first and foremost understand themselves, recognizing their strengths and weaknesses. They have proper respect of their abilities using the bounds of market probabilities. Above all, they respect what the market is telling them. Most have an ability to form a psychological balance realizing that they are not as good as they think they are in the good times, and not as bad as they may feel during the difficult times. Understanding that we are all at the mercy of the market, made up of all its varied participants.
January economic data in the last couple of years has been relatively unreliable, but recent figures paint a fairly consistent picture of where we are headed in the near term. While there is reason to be optimistic, it's still a mixed bag, with some concerns about what we will see coming out of Washington over the next several months.
Therein lies the intermediate term risks to the equity market. Financial market participants will focus on Washington. Tax cuts and a rollback of regulations are encouraging for investors, but the timing, size, and character of tax cuts are uncertain. Business leaders are concerned about trade policy. There's a clear need to rework how foreign earnings are taxed, but there are major risks if Washington gets it wrong, especially at a time when the global economy appears poised for improvement.
Each of those by itself won't be enough to derail the long-term trend. In essence, it would take major mistakes and/or omissions on a variety of fronts that could derail the bull market. At this point in time, I view that as having a low probability of occurring.

Economy
The graphic below shows the impact both imports and exports have on GDP.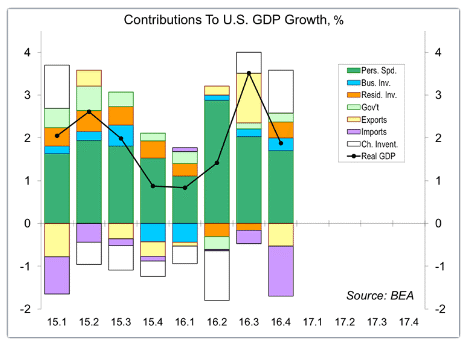 The U.S. trade deficit for last month came in at $44.3 billion. The chart in the link provided paints a nice picture of what our trade deficit looks like over the last 12 months. The overall goods and services trade balance continues to move back and forth in a narrow range around a 12-month average of $41.9 billion.

We have seen across the board confidence indicators for consumers, small business owners and Corporate CEO's jump to higher levels in the last few months. It is an important factor that is playing out in the price action of the market and bears repeating. The latest month's Consumer Confidence jumped to 111.8. That's nearly 20 points above the long-term average of 93.6. Digging into the details reveals that the biggest jump in confidence this month when looking at income levels was in the middle class, who President Trump certainly appealed to in his campaign.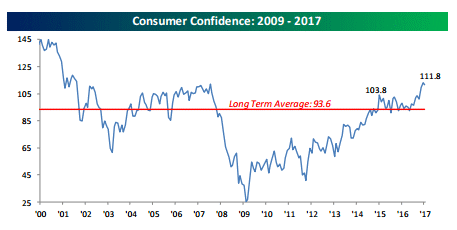 Source: Bespoke
For all of the negative talk about retail sales, the fact is they reached a new all-time high in December, with annual growth of 2.0% year over year. The range has generally been centered around 2.5% year over year for most of the past 20 years.

>
Chart courtesy of Urban Carmel. Data from Federal Reserve Economic Database.
Consumer loan delinquency rates are at a 30-year low.

>
Chart courtesy of Urban Carmel. Data from Federal Reserve Economic Database
Modest growth should not be a surprise. This is the classic pattern in the years following a financial crisis like the one experienced in 2008-09. Unlike typical cyclical expansions. Consumers have reduced their relative debt, and this has constrained their consumption.
The latest Job Openings and Labor Turnover report was unimpressive. Total openings, the separations rate, the total and private openings rates, and the total and private quits rates have all failed to make new highs in upwards of a year in most cases. I wouldn't read too much into that fact since I also do not see any deterioration taking place.
The latest increase for GDP growth was short lived, exactly 7 days. The latest Federal Reserve Bank of Atlanta's GDPNow model forecast for real GDP growth for the first quarter of 2017 is 2.7 percent on February 7, down from 3.4 percent on February 1.

Jobless claims dropped more than expected this week, falling from 246K to 234K and well below consensus expectations for an increase to 249K. This is the 101st week that claims have been below 300K, which is the longest streak since 1970. This area of the economy continues to present positives.

Global Economy

U.K. Services PMI for January was reported at 54.5, down from the December read of 56.2. The index remains solidly above the important level of 50. Manufacturing and more broadly, U.K Industrial Production surged in December, in line with the forecast made by PMI from Markit.
The German Services PMI was weaker as well with a read of 53.4 versus a December report of 54.3. German Manufacturing Orders came in with a strong reading, increasing by 5.2%. That is the largest increase since July 2014. Meanwhile, Industrial production in Germany crashed, decreasing by 0.70 percent from the prior reading.
Eurozone Services PMI was reported in line and the same as the prior month at 53.7.

Chinese Caixin Manufacturing PMI for January came in lower than last month anticipated with a reading of 51. That compared to a December read of 51.9.
Caixin Services PMI for China came in lower than last month at 53.1 but remains solidly in expansion territory. Last month's reading of 53.5 was a 12-month high.

Japanese Machinery Orders month over month for December strongly surprised to the upside.

Bloomberg reports:
"Brexit has already damaged businesses even before Prime Minister Theresa May triggers the start of Britain's withdrawal from the European Union, according to a survey of the country's largest companies. More than half, 58 percent of the top executives at Britain's biggest firms that responded to the Ipsos MORI "Captains of Industry" poll said the vote to quit the bloc has had a negative impact on their businesses."
In a separate report, the U.K. House of Commons approved a bill that would allow Prime Minister May to invoke Article 50.

Earnings Observations
A list of headlines for this earnings season are compiled daily and can be found here. The past week saw the green headlines solidly outweighing the red.
I have always been a fan of the technology sector as it was one of the few areas of the market where earnings were improving far greater than the general economy. My feelings on the sector got stronger after the election. Owning growth stocks in a pro-growth environment has been my call since Trump was elected. The earnings results for the technology sector have not let me down.
The Technology sector is hitting home run after home run this season with an 81% earnings beat rate and 69% revenue beat rate. For the earnings beat rate, just three additional sectors have readings above 65%, Health Care, Industrials, and Financials. For revenues, the Energy sector is the only one that really stands out along with Tech for having a high reading.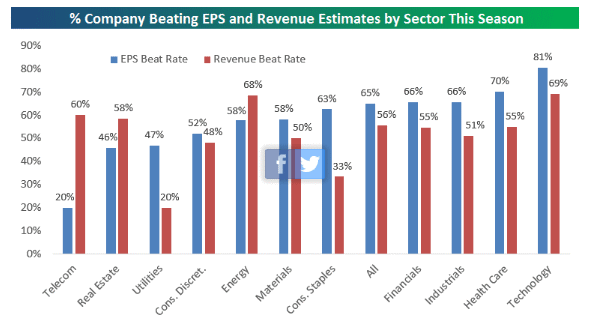 Source: Bespoke
Consumer stocks are having trouble keeping up this season. The earnings beat rate for Consumer Staples (63%) is slightly below the broad beat rate of 65%, but its revenue beat rate is very low at 33%. For Consumer Discretionary, its earnings beat rate is the fourth worst among all sectors at 52%, and its revenue beat rate of just 48% is the lowest of the cyclical sectors. While the consumer seems flush based on recent sentiment readings, consumer dependent companies are having a hard time keeping up with analyst expectations this quarter.
With 3/4 of S&P 500 companies having reported, earnings are on pace to rise 8-9% year over year. A return to trend growth after several lackluster years. Guidance has been particularly bullish, suggesting a very strong 2017 even without passage of pro-growth policies this year. That is attributable to one primary factor, confidence. CEOs appear to be in a positive mindset given the proposals to boost Corporate America that are on the table.
FactSet Research reports:
"For Q4 2016, the blended earnings growth rate for the S&P 500 has moved up to 5.0%. On December 31, the estimated earnings growth rate for Q4 2016 was 3.1%"
Valuation:
"The forward 12-month P/E ratio for the S&P 500 is 17.3. This P/E ratio is based on Thursday's closing price (2307.87) and forward 12-month EPS estimate ($133.34)."

The Political Scene
Last week my article highlighted a list of headlines from major news sources indicating how the Trump rally was over. This past week, "the Trump presidency will lead us down the wrong path" was heard from Monday till Friday from hedge fund managers to professors touting their latest book.
There is no need to go into political commentary as I wish to avoid the hate mail. Instead, it is best to go back and take a look at some history. Those who bring their ideology to the party instead of observing the price action and the data points being presented will make the SAME mistake as many before them. The crowd that brought the Fed into the picture as the demon that would bring the stock market down all during this uptrend were left far behind.
The SAME fate awaits the ideologues today.

The Fed
Fed officials see an economy that is nearing full employment. We should hear more of that when Fed Chair Janet Yellen delivers her monetary policy testimony to Congress next week (February 15). One item that investors will be watching is what she has to say on the wage picture. Note that tight labor markets are usually reflected in faster wage growth. Average hourly earnings rose a meager 0.1% in January, up just 2.5% from a year earlier. That is the same pace we saw in the 12 months ending January 2016.

Sentiment
This graphic bears out what I have been saying for a while as to who is buying this market.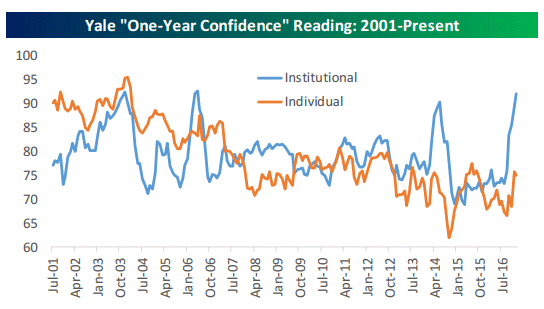 Source: Bespoke
The survey result as shown is Yale's "Stock Market Confidence" reading, which asks investors if they think the stock market will be up one year from now. It is easy to see that the overall trend has been heading lower for years now, but we have now seen a massive spike in expectations from
Institutional investors. Individual investors have only gotten slightly more bullish based on this reading and are nowhere near highs.
The final survey question in the survey asks investors how confident they are that there won't be a stock market crash in the next six months. Interestingly, while investors have gotten more bullish, especially institutional investors, they have also gotten more concerned about a stock market crash.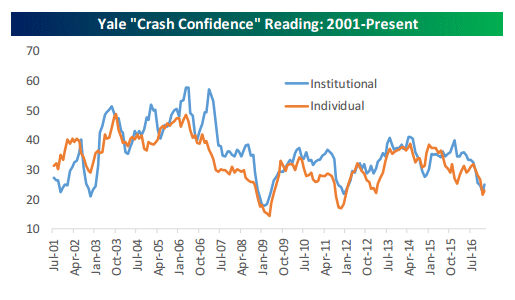 Source: Bespoke
As we have seen in the past, new highs do not interest many. After dropping below 33% in the last two weeks, bullish sentiment on the part of individual investors saw a modest rebound this week, rising from 32.8% up to 35.8%, which is still an extraordinarily low level given where the market is.

Crude Oil and the U.S. Dollar
A larger-than-expected build in inventories drove the trading in WTI this past week. The knee jerk reaction was to the downside with a break below the $52 level. So with the stars aligned to the downside with a bearish report and a break below $52, prices rebounded and WTI closed at $52.46. Above that critical pivot point on the day the inventory report was announced.
WTI closed at $53.85, unchanged for the week. The price remains above what I believe is the all important $52 level. Resistance just above these levels at $55 are formidable.

It appears that everyone isn't bullish on the USD, JPMorgan says it might be a good time to sell the dollar. Since rallying hard from election day through December 28th, the US Dollar Index has actually been performing very poorly. The weak dollar has made its impact felt on stocks. Stocks that generate more than 50% of their revenues internationally have significantly outperformed stocks that generate all of their revenues domestically.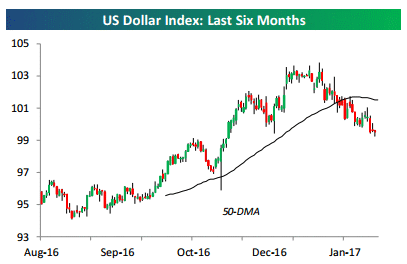 Source : Bespoke
For those that wish to tailor their portfolio around the USD (not recommended), the graphic below sorts out the international revenue exposure by sector. Technology and Materials have the most international revenue exposure, these are the best two sectors in terms of stock performance year to date. Looking at how the USD/Equity correlation is viewed, that trend should continue if the dollar remains weak, and it will reverse if the dollar begins to strengthen.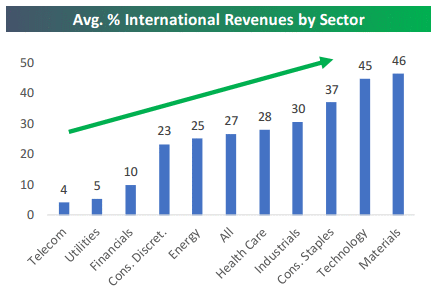 Source: Bespoke
However, here is another view that casts doubts about all of the commentary that is thrown at us on this topic. This should give investors pause before they start making changes to their holdings based on this one issue.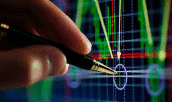 The Technical Picture
Looking over the charts this week, takes me back to my commentary last week when the S&P continued to trade sideways;
"Since we didn't get that close above what I thought was an important breakout point (2,305), it simply breaks down to a market at a crossroads. The index makes another charge at the 2,300 level and breaks to new highs or the setup calls for more downside probing."
The index chose the path of least resistance and moved above the 2,305 level breaking to yet another new closing high of 2,316. Stocks often get ahead of themselves, and maybe that is the case here. Anyone trying to outguess the market may be reminded how the same "stocks are ahead of themselves" chatter is the same that we heard in early December of last year.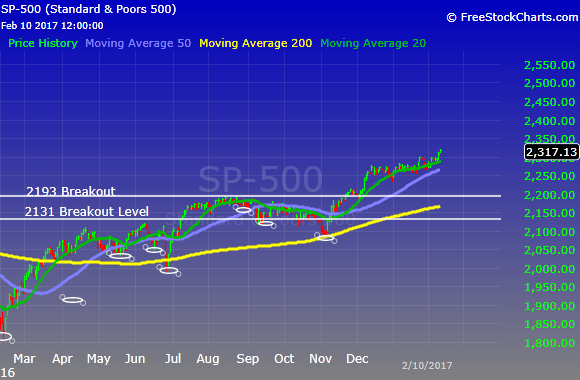 Chart courtesy of FreeStockcharts.com
Best to keep the backdrop
simple. The long-term trend is in place and pullbacks will be held in check. Putting on hedges, raising a boatload of cash or going short the market here is simply an attempt to call a top. Investors need to shy away from that activity as this bull market has taken anyone that has tried that before to the proverbial woodshed. The long-term trend is firmly in place despite the noise that at times is deafening.
S&P 2,257 remains a key level for a potential short-term downtrend to unfold. The stock market remains in an uptrend unless that level is broken. Medium term support moves to the 2,286 and 2,270 pivots, with resistance now at the 2,321 and 2,336 pivots.
As we have seen in the past, there are always little things to keep an eye on. There are some small divergences that popped up last week. The Semiconductor index (NASDAQ:SOXX), a leader in this rally, turned around when the major indexes reached new highs. No surprise as it has had a great run, and it could mean some of that money will find another area of the market. Secondly, while the S&P made new highs, advancing volume was low.
None of these suggest a complete reversal. Worst case, maybe the pause everyone has been calling for. As we know, the trend is strong and now let's see if we can get to the level I mentioned back in December.
"My upside target for the S&P remains at 2,350-2,380."
Let's see if the S&P continues towards that level, before a pullback.

Market Skeptics
Seth Klarman, a very successful investor in his own right, is the latest to come out against the Trump presidency, citing the negative effect it will have on stocks.
Larry Fink, CEO of Blackrock, weighed in with a dark outlook for equities and the economy ahead. Bessemer Trust is extrapolating the initial trade talk out of the White House to protectionism and trade wars. They are hardly alone when it comes to making these quantum leaps based on hypothetical ramblings and conjecture when they stand up and talk their game.
Amidst all of that good news for the bulls (sarcasm intended), we are now being told to prepare for a bear market.
In the past, I have tried to show how following these "gurus" doesn't work. Amidst bearish headlines all during last year from Carl Icahn, his fund lost 20% during the year. George Soros talked up the bearish view last year as well, and lost $1 billion after the election.
These mega personalities and investment firms have agendas and they simply use their status to talk up their book. In the two cases shown above, their books were incorrectly positioned They stand in front of a CNBC or a Bloomberg camera and attempt to sell their fear and get the gullible to follow along with them to bolster their returns.

Individual Stocks and Sectors
Technology has now taken the top sector spot in terms of year-to-date performance, eclipsing Materials which had been in the lead. Energy and Telecom are the main areas of weakness.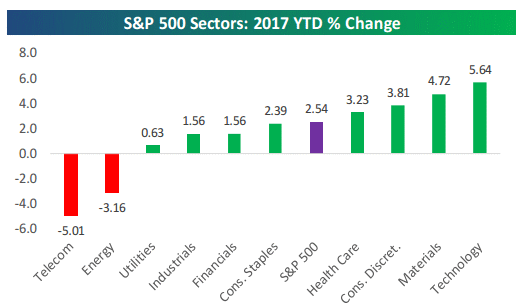 Source: Bespoke
The Energy sector is the only area of the market currently oversold, while Telecom is close. A good time to consider entry. Healthcare and Consumer Staples had the strongest rebounds in terms of moving higher within their trading ranges.
One trend that I have been watching. While the S&P 500 Energy sector has pulled back, the price of oil remains near its highs. This appears to be just s another sign that Energy sector stocks are just going through a consolidation phase. Time to take a look at the energy favorites on your watchlist
"Their best days are behind them", "it's dead money". So went the narrative for weeks and months now on Apple (NASDAQ:AAPL). As far as what's behind us, it is the July 2016 $95 price level, and the $105 price point when many of these statements came out. The stock just broke $130. I believe the shares are on their way to a new all-time high.
A company that was mentioned as a member of the 2017 playbook, Roper Technologies (NYSE:ROP) just reported an excellent quarter. This stock isn't done going higher and is a good candidate for everyone's watch list.

Given the 1.8% gain in January, the bulls will have to keep up with the solid start to trading this month. Only 2 times in the last 10 years has the market been positive in both January and February. So far, February has produced a gain of 1.7% for the S&P.

The new highs for U.S. equities are starting the year at record highs.
The new highs for the S&P, DJIA, Nasdaq and the Russell this past week continues that pattern. The rally is supported by healthy breadth and a relatively solid economic foundation. The biggest concern for some is volatility, which has fallen to an extreme. A mean reversion in volatility is more than likely in the cards at some point. Some have been calling for that to happen for well over a month now. We do know when that occurs it is normally unfavorable for the equity market in the short term.
So with the short term always a guess, I will pose another issue that could upset the applecart for the bulls in the short term. The end of the earnings season. That time period will represent a void in what really matters. What we will be left with is the media highlighting every tweet, every opposing view, and parsing every word after every White House press conference. Based on what we have witnessed, it easily could raise the fear level to new heights.
The S&P 500 has now gone 84 trading days without a 1% decline. Longest streak since 2006. Back then the streak ended with a decline in the S&P before it continued a rally taking the index to new highs. A similar pattern could be unfolding. The takeaway, after a pullback comes additional highs.
The majority concentrates on where the S&P is going in the next few weeks and have been calling for a correction for weeks. While there are short-term concerns, most of the negativity stems from those talking the market down while they miss out on the rally. It appears they wish to let their preconceived notions lead them to jump to conclusions. The concerns about the minutia of the day clouds judgment, while the price action is left to sit there totally unnoticed.
As I go back and read the opening quote, the more things change, the more they stay the same. The mindset in place today is eerily similar to what I saw over 3 years ago. This time around the breakout at 2,131 was for the most part dismissed, the S&P is up 8.7% since then. The break at 2,193 was met with "stocks have gone too far and are ready for a pullback", the S&P is up 5.6% from then. As mentioned a month ago, waiting for a pullback can be costly. It is the same story from the many pundits out there. Time for caution, time to put hedges on, time to raise cash. That hasn't worked and the money spent on hedges has been flushed down the drain.
What is more important and goes unnoticed; what is happening below the surface that no one mentions. Earnings and the data. In addition, it maybe better to take our cues from the stock markets around the world, with few exceptions they are in sync with uptrends. Unless all of them are misleading us, growth appears to be gaining momentum.

Instead of concentrating on what is driving the rally, the pundits blast investors ears with their meaningless opinions on meaningless tweets.
The squeaky wheels get all the grease. In this case, that grease is the media coverage of groups that are dissatisfied and drawing attention to their cause. For now, the market has the story correct, by ignoring those distractions and concentrating on the silent majority that matters when it comes to the economy and the stock market.
If many are rolling out dire scenarios now at all-time highs, we can expect that during a pullback and weakness in equities, every frightful scenario will be magnified to extremes. Be ready for that in the weeks/months ahead.
Unless the long-term picture starts to waver, I will be avoiding the preconceived notions, the quantum leaps to dire scenarios that dominate the scene, and
simply stay the course.
Best of Luck to all!
Disclosure: I am/we are long AAPL,ROP.
I wrote this article myself, and it expresses my own opinions. I am not receiving compensation for it (other than from Seeking Alpha). I have no business relationship with any company whose stock is mentioned in this article.
Additional disclosure: The opinions rendered here, are just that – opinions – and along with positions can change at any time. As always I encourage readers to use common sense when it comes to managing any ideas that I decide to share with the community. Nowhere is it implied that any stock should be bought and put away until you die. Periodic reviews are mandatory to adjust to changes in the macro backdrop that will take place over time.
Trending Hairstyles
Source : https://seekingalpha.com/article/4045076-s-and-p-500-weekly-update-calls-correction-back-getting-louder-major-indexes-break-new-highs