Lebanon believes Saad al-Hariri is being held in Saudi Arabia, from where he resigned as Lebanese Prime Minister, two top government officials in Beirut said, amid a deepening crisis pushing Lebanon onto the front lines of a power struggle between Saudi Arabia and Iran.
A third source, a senior politician close to Saudi-allied Hariri, said Saudi Arabia had ordered him to resign and put him under house arrest. A fourth source familiar with the situation said Saudi Arabia was controlling and limiting his movement.
In a televised statement indicating deep concern at Hariri's situation, his Future Movement political party said his return home was necessary to uphold the Lebanese system, describing him as Prime Minister and a national leader.
​Hariri's resignation last Saturday, read out on television from Saudi Arabia, came as a shock even to his aides and further embroiled Beirut in a regional contest between Riyadh and Tehran.
Hariri's exit fuelled wide speculation that the Sunni Muslim politician, long an ally of Riyadh, was coerced into stepping down by Saudi Arabia as it seeks to hit back against Iran and its Lebanese Shi'ite ally, Hezbollah.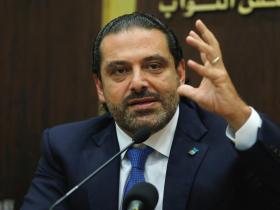 >
The Lebanese Prime Minister's resignation is not all it seems
In his resignation speech, Hariri denounced Iran and Hezbollah for sowing strife in Arab states and said he feared assassination. His father, a former prime minister, was killed by a bomb in 2005.
Saudi Arabia has denied reports he is under house arrest.
But Hariri has issued no statements himself to that effect, and has not denied that his movements are being restricted.
"Keeping Hariri with restricted freedom in Riyadh is an attack on Lebanese sovereignty. Our dignity is his dignity. We will work with (foreign) states to return him to Beirut," said the senior Lebanese official, speaking on condition of anonymity because the government had yet to declare that position.
Saudi Arabia says Hariri resigned because Hezbollah, which was included in Hariri's coalition government, had "hijacked" Lebanon's political system.
Hariri aides had until Thursday denied he was under house arrest but took a dramatically different tone after a meeting of the Future Movement convened at Hariri's Beirut residence on Thursday.
A statement read by former Prime Minister Fouad Siniora said his return was "necessary to recover respect for Lebanon's internal and external balance, and in the framework of full respect for Lebanese legitimacy".
Hariri's aunt, Bahia, sat next to Siniora as he read the statement. The party stood behind his leadership, it said.
Hariri came to office last year in a political deal that made the Hezbollah-allied Christian politician Michel Aoun head of state and produced a coalition government grouping most Lebanese parties including Hezbollah.
Saudi Arabia blessed the government at the time, but has been fiercely critical of the Hariri-led government since he stepped down, saying it failed to act against Hezbollah, whose guerrilla army is far more powerful than the weak state.
Saudi Arabia had wanted Hariri to take a tougher stance toward Hezbollah, and he failed to do so, the fourth source said. "He was functioning as if it is business as usual, so the Saudis had to accelerate the process and to force a resignation."
Saudi Arabia this week lumped Lebanon together with Hezbollah as parties that are hostile to it, breaking with a long-established policy that has drawn a line between them and raising concerns of further Saudi measures.
Hariri flew to Saudi Arabia last Friday.
The top Lebanese government official, speaking on condition of anonymity, said: "Lebanon is heading toward asking foreign and Arab states to put pressure on Saudi Arabia to release Prime Minister Saad al-Hariri."
Read more
The official said Hariri was still Lebanon's prime minister, echoing other Lebanese government officials who say his resignation had not been received by Aoun, and his government therefore remained in place.
The resignation of Hariri, a business tycoon whose family made its fortune in Saudi Arabia, happened at the same time as a wave of arrests of Saudi princes and businessmen accused of corruption by Crown Prince Mohammed bin Salman.
The senior Lebanese politician close to Hariri said: "When he went (to Saudi Arabia) he was asked to stay there and ordered to resign. They ordered him to read his resignation statement and he has been held under house arrest since."
Two US officials said the Saudis, led by Crown Prince Mohammed, had "encouraged" Hariri to leave office.
The fourth source said: "He is under controlled movement by the Saudis, limited movement."
Hezbollah's parliamentary bloc said Saudi Arabia must halt its interference in Lebanese affairs.
He made a one-day flying visit to the United Arab Emirates, a close Saudi ally, earlier this week before returning to Saudi Arabia.
Hariri's office said in a statement he had received the French ambassador to Saudi Arabia at his Riyadh residence on Thursday. He had also met the head of the EU mission to Saudi Arabia on Wednesday, and on Tuesday the British ambassador and the US charge d'affaires.
State Department spokeswoman Heather Nauert confirmed US Charge d'Affaires Chris Henzel met with Hariri. Asked about reports Hariri was being held in Saudi Arabia, Nauert declined to elaborate on his status or what was discussed, calling the talks "sensitive, private, diplomatic conversations."
Nauert indicated the United States would not treat the Lebanese government any differently as a result of the uncertainty over Hariri.
World news in pictures
World news in pictures
1/50

23 March 2018

Police at the scene of a hostage situation in a supermarket in Trebes. An armed man took hostages in a supermarket in southern France, killing three and injuring about a dozen others, police said. A French minister confirmed the gunman had been shot dead by police.

Reuters

2/50

22 March 2018

A boy rows his boat in the polluted waters of the Brahmaputra river on World Water Day in Guwahati, India.

Reuters

3/50

21 March 2018

Kosovo's opposition lawmakers release a teargas canister inside the country's parliament in before a vote for an agreement to ratify or not a border demarcation deal signed in 2015 with Montenegro.

AFP/Getty

4/50

20 March 2018

People carrying luggage leave the Russian Embassy in London and board a van bearing diplomatic plates. Dozens of people including adults with children arrived at the Russian embassy in the morning and then left carrying luggage in vehicles bearing diplomatic registration plates. Britain last week announced the expulsion of 23 Russian diplomats over the spy poisoning row, prompting a tit-for-tat response from Moscow.

AFP/Getty

5/50

19 March 2018

The Soyuz MS-08 spacecraft is mounted on the launch pad at the Russian-leased Baikonur cosmodrome in Kazakhstan

AFP/Getty

6/50

18 March 2018

President Vladimir Putin walks out of a voting booth at a polling station during Russia's presidential election in Moscow.

AFP/Getty

7/50

17 March 2018

People take part in a pensioners protest to demand decent pensions in Barcelona. Thousands of people across the country took part in mass demonstrations called by main Spanish workers unions demanding rises of state pensions in accordance with the consumer price index

AFP/Getty

8/50

16 March 2018

Russian President Vladimir Putin visits the Almazov National Medical Research Centre in Saint Petersburg.

AFP/Getty

9/50

15 March 2018

Vladimir Putin chairs a meeting with members of the Security Council in Moscow.

Reuters

10/50

14 March 2018

German Chancellor Angela Merkel is sworn in by the President of the German lower house during the government's swearing-in ceremony at the Bundestag in Berlin. Merkel, head of the Christian Democratic Party CDU, starts her fourth term as German chancellor, capping months of political uncertainty as she bartered with her rivals of the SPD to help govern Europe's top economy in a "grand coalition".

AFP/Getty

11/50

13 March 2018

Nepali students of University of Dhaka light candles in memory of the victims of the US-Bangla aircraft crash in Nepal, Bangladesh.

Reuters

12/50

12 March 2018

Rescuers work to save passengers from a plane crash at Kathmandu airport in Nepal.

AP

13/50

11 March 2018

French President Emmanuel Macron and his wife Brigitte Macron pose for photographs as they visit the Taj Mahal.

AFP/Getty

14/50

10 March 2018

France's far-right party Front National (FN) president Marine Le Pen applauds former US President advisor Steve Bannon after his speech during the Front National party annual congress, in Lille, northern France.

AFP/Getty

15/50

9 March 2018

A television screen showing pictures of US President Donald Trump and North Korean leader Kim Jong-Un at a railway station in Seoul.

AFP/Getty

16/50

8 March 2018

Protesters form triangles with their hands during a demonstration for women's rights in Bilbao, Spain.

Reuters

17/50

7 March 2018

A labourer works on a salt pan in the outskirts of the Nagaur district in the Indian state of Rajasthan ahead of International Women's day.

AFP/Getty

18/50

6 March 2018

Sri Lanka's army soldiers and police personnel stand near a vandalised building in Digana, a suburb of Kandy. Extremists Buddhist mobs swept through the town on Monday, burning at least 11 Muslim owned shops and homes. Sri Lanka's president declared a state of emergency Tuesday amid fears that anti-Muslim attacks in the central hill town could spread.

AP

19/50

5 March 2018

Chinese President Xi Jinping arrives for the opening of the first session of the 13th National People's Congress (NPC) at the Great Hall of the People in Beijing. The NPC has over 3,000 delegates and is the world's largest parliament or legislative assembly though its function is largely as a formal seal of approval for the policies fixed by the leaders of the Chinese Communist Party. The NPC runs alongside the annual plenary meetings of the Chinese People's Political Consultative Conference (CPPCC), together known as 'Lianghui' or 'Two Meetings'.

EPA

20/50

4 March 2018

Female protestor stands up with the words 'Berlusconi Sei Scaduto' written on her body, translating as 'Berlusconi, you've expired', as Silvio Berlusconi stands during voting of the political and regional elections in Milan, Italy.

Rex

21/50

3 March 2018

Russian President Vladimir Putin delivers a speech during a rally to support his bid in the upcoming presidential election at Luzhniki Stadium in Moscow.

Reuters

22/50

2 March 2018

A light turns red outside of Germany's Krupp Mannesmann steel factory. German officials and industry groups warned U.S. President Donald Trump that he risks sparking a trade war with his closest allies if he goes ahead with plans to impose steep tariffs on steel and aluminium imports.

AP

23/50

1 March 2018

People dance during Holi festival celebrations in Kathmandu, Nepal.

EPA

24/50

28 February 2018

Indian fans watch as the funeral procession of the late Bollywood actress Sridevi Kapoor passes through Mumbai.

AFP/Getty

25/50

27 February 2018

Candles are left in tribute to murdered Slovakian investigative reporter Jan Kuciak, 27, and his fiancee Martina, 27, at Slovak National Uprising Square in Bratislava. A leading Slovak newspaper says organised crime may have been involved in the shooting death that shocked Slovakia. The bodies of Kuciak and Kusnirova were found Sunday evening in their house in the town of Velka Maca, east of the capital.

AP

26/50

26 February 2018

Colosseum during a heavy snowfall in Rome, Italy.

REUTERS/Alberto Lingria

27/50

25 February 2018

Family members of victims of the sunken South Korean naval ship Cheonan by a North Korean attack hold up defaced portraits of Kim Yong Chol, vice chairman of North Korea's ruling Workers' Party Central Committee, during a rally against his visit near the Unification bridge in Paju, South Korea. A North Korean high-level delegation led by Kim arrived to attend the closing ceremony of the Pyeongchang Winter Olympics. The signs read: " Let's punish Kim Young Chol."

Getty

28/50

24 February 2018

Ivanka Trump (C) cheers while sat between former Olympic US bobsledders Shauna Rohbock (L) and Valerie Fleming (R) as the United States beat Sweden in their Men's Gold Medal Curling match at the Gangneung Curling Centre in Gangneung, South Korea. Ivanka Trump is on a four-day visit to South Korea to attend the closing ceremony of the PyeongChang Winter Olympics.

Getty

29/50

23 February 2018

David Allen Turpin (C), who along with Louise Anna Turpin is accused of abusing and holding 13 of their children captive, appears in court with attorneys David Macher (L) and Alison Lowe in court in Riverside, California. According to Riverside County Sheriffs, David Allen Turpin and Louise Anna Turpin held 13 malnourished children ranging in age from 2 to 29 captive in their Perris, California home. Deputies were alerted after a 17-year-old daughter escaped by jumping through a window shortly before dawn, carrying a de-activated mobile phone from which she was able to call 911 for help. Responding deputies described conditions in the home as foul-smelling with some kids chained to a bed and suffering injuries as a result. Adult children appeared at first to be minors because of their malnourished state. The Turpins were arrested on charges of torture and child endangerment.

Getty

30/50

22 February 2018

The Elephanta Island, home to the famous Elephanta Caves, finally gets electricity after a wait of 70 years. Seventy years after Independence, a 7.5-km long undersea cable has finally brought electricity to the world-famous Gharapuri Isle, which houses the UNESCO World Heritage site Elephanta Caves, about 10-km from Mumbai, India.

Getty

31/50

21 February 2018

Canadian Prime Minister Justin Trudeau pays his respects at the Sikh Golden Temple in Amritsar. Trudeau and his family are on a week-long official trip to India.

Getty

32/50

20 February 2018

Members of the Syrian civil defence evacuate an injured civilian on a stretcher from an area hit by a reported regime air strike in the rebel-held town of Saqba, in the besieged Eastern Ghouta region on the outskirts of the capital Damascus.

AFP/Getty

33/50

19 February 2018

A Thai Navy instructor demonstrates how to catch a snake during a jungle survival exercise as part of the "Cobra Gold 2018" (CG18) joint military exercise with US soldiers, at a military base in Chonburi province, Thailand.

Reuters

34/50

18 February 2018

Children play outside their destroyed school in the Frikeh village, in Idlib, north-western Syria

35/50

17 February 2018

A pro-Kurd demonstrator attends a protest demanding the release of the Kurdistan Workers' Party (PKK) leader Abdullah Ocalan in Strasbourg, France

36/50

16 February 2018

Joe Zevuloni mourns in front of a cross placed in a park to commemorate the victims of the shooting at Marjory Stoneman Douglas High School, in Parkland, Florida

Reuters

37/50

15 February 2018

South Africa's new president Cyril Ramaphosa holds up his right hand as he is sworn into office

AFP/Getty

38/50

14 February 2018

The African National Congress's (ANC) treasurer general Paul Mashatile (left) and parliamentary chief whip Jackson Mthembu address a media briefing, after an emergency ANC caucus meeting on 14 February in Cape Town. South Africa's parliament will hold a vote of no-confidence in President Jacob Zuma on 15 February, the ruling ANC party said, signalling its determination to eject him from office after days of stalemate

AFP

39/50

13 February 2018

North Korean cheerleaders are surrounded by media as they attempt to walk on Gyeongpo beach in Gangneung, South Korea

AFP/Getty

40/50

12 February 2018

Former US President Barack Obama unveils his portrait at the Smithsonian's National Portrait Gallery in Washington, DC

AFP/Getty

41/50

9 February 2018

US Vice President Mike Pence and North Korean leader Kim Jong-Un's sister Kim Yo-Jong attend the opening ceremony of the Pyeongchang 2018 Winter Olympic Games

AFP/Getty

42/50

8 February 2018

Bangladesh police charge towards activists of the Bangladesh Nationalist Party protesting following a verdict against opposition leader Khaleda Zia in Dhaka. The ex-Prime Minister of Bangladesh was jailed for five years on corruption charges.

AFP/Getty

43/50

7 February 2018

Rescue services search for people in a damaged building in eastern Taiwan after a magnitude 6.4 earthquake hit Hualien on the night of 6 February, 2018. Media reports said several buildings were damaged and at least four people were killed and some 100 were injured during the quake. Teams are trying to rescue people inside the buildings. Some bridges and roads are damaged and the main road to Hualien is closed. More than 100 earthquakes have hit off Taiwan's east coast in the past three days. The Seismological Observation Center said they are cuased by the friction between the Philipine Plate and Eurasian Plate.

EPA

44/50

6 February 2018

Anti-North Korean protesters push against police as a ferry carrying a North Korean art troupe for the Pyeongchang 2018 Winter Olympic Games approaches the port of Mukho in Donghae. Around 120 North Korean art performers in matching red coats and fur hats left for the South, its state media said on February 6, the latest in the flurry of cross-border exchanges in the run-up to the Pyeongchang Olympics.

AFP/Getty

45/50

5 February 2018

Philadelphia Eagles' Nick Foles celebrates with the Vince Lombardi Trophy after winning Super Bowl LII.

Reuters

46/50

4 February 2018

Authorities investigate the scene of a fatal Amtrak train crash in Cayce, South Carolina. At least two were killed and dozens injured.

The State via AP

47/50

3 February 2018

Members of security services react as a man in the crowd tries to shake hands with French President Emmanuel Macron, who walks next to Senegalese President Macky Sall in a street of Saint-Louis, Senegal.

Reuters

48/50

2 February 2018

County Sheriffs restrain Randall Margraves, the father of three daughters who were abused by Larry Nassar, after he tried to attack the former team USA Gymnastics doctor who pleaded guilty in November 2017 to sexual assault charges, during victim statements of his sentencing in the Eaton County Circuit Court in Charlotte, Michigan.

REUTERS

49/50

1 February 2018

Abu Rabih, 65, walks through the rubble with his eight-year-old grandson Yahya following air strikes by regime forces which hit the building where they live in Arbin, in the rebel-held Eastern Ghouta region on the outskirts of the Syrian capital Damascus. Arbin is in the Eastern Ghouta region which has been under government siege since 2013.

AFP/Getty Images

50/50

31 January 2018

A 'Supermoon' shines its blood red colors during a full eclipse above the Big A Sign of Angel Stadium in Anaheim, California. A 'Supermoon' commonly is described as a full moon at its closest distance to the earth with the moon appearing larger and brighter than usual.

EPA
Saudi Arabia warned its citizens on Thursday against travel to Lebanon and said those already there should leave. It has issued similar advice about Lebanon to its citizens before.
Lebanon's Maronite patriarch will visit Saudi Arabia next week and has received "a positive response" from Saudi officials over the possibility of seeing Hariri, his spokesman said.
Patriarch Beshara al-Rai's visit "had been decided on a long time ago. In light of the developments, his mission has become national," Walid Ghayyad said. The patriarch will take a message to the kingdom that "Lebanon cannot handle conflict."
Reuters
Trending Hairstyles
Source : http://www.independent.co.uk/news/world/middle-east/saad-al-hariri-saudi-arabia-lebanese-pm-held-hostage-future-movement-accusation-iran-crisis-a8047411.html