Lebanon believes Saad al-Hariri is being held in Saudi Arabia, from where he resigned as Lebanese Prime Minister, two top government officials in Beirut said, amid a deepening crisis pushing Lebanon onto the front lines of a power struggle between Saudi Arabia and Iran.
A third source, a senior politician close to Saudi-allied Hariri, said Saudi Arabia had ordered him to resign and put him under house arrest. A fourth source familiar with the situation said Saudi Arabia was controlling and limiting his movement.
In a televised statement indicating deep concern at Hariri's situation, his Future Movement political party said his return home was necessary to uphold the Lebanese system, describing him as Prime Minister and a national leader.
​Hariri's resignation last Saturday, read out on television from Saudi Arabia, came as a shock even to his aides and further embroiled Beirut in a regional contest between Riyadh and Tehran.
Hariri's exit fuelled wide speculation that the Sunni Muslim politician, long an ally of Riyadh, was coerced into stepping down by Saudi Arabia as it seeks to hit back against Iran and its Lebanese Shi'ite ally, Hezbollah.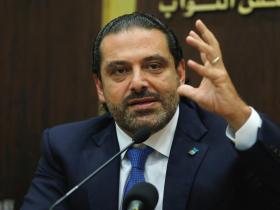 >
The Lebanese Prime Minister's resignation is not all it seems
In his resignation speech, Hariri denounced Iran and Hezbollah for sowing strife in Arab states and said he feared assassination. His father, a former prime minister, was killed by a bomb in 2005.
Saudi Arabia has denied reports he is under house arrest.
But Hariri has issued no statements himself to that effect, and has not denied that his movements are being restricted.
"Keeping Hariri with restricted freedom in Riyadh is an attack on Lebanese sovereignty. Our dignity is his dignity. We will work with (foreign) states to return him to Beirut," said the senior Lebanese official, speaking on condition of anonymity because the government had yet to declare that position.
Saudi Arabia says Hariri resigned because Hezbollah, which was included in Hariri's coalition government, had "hijacked" Lebanon's political system.
Hariri aides had until Thursday denied he was under house arrest but took a dramatically different tone after a meeting of the Future Movement convened at Hariri's Beirut residence on Thursday.
A statement read by former Prime Minister Fouad Siniora said his return was "necessary to recover respect for Lebanon's internal and external balance, and in the framework of full respect for Lebanese legitimacy".
Hariri's aunt, Bahia, sat next to Siniora as he read the statement. The party stood behind his leadership, it said.
Hariri came to office last year in a political deal that made the Hezbollah-allied Christian politician Michel Aoun head of state and produced a coalition government grouping most Lebanese parties including Hezbollah.
Saudi Arabia blessed the government at the time, but has been fiercely critical of the Hariri-led government since he stepped down, saying it failed to act against Hezbollah, whose guerrilla army is far more powerful than the weak state.
Saudi Arabia had wanted Hariri to take a tougher stance toward Hezbollah, and he failed to do so, the fourth source said. "He was functioning as if it is business as usual, so the Saudis had to accelerate the process and to force a resignation."
Saudi Arabia this week lumped Lebanon together with Hezbollah as parties that are hostile to it, breaking with a long-established policy that has drawn a line between them and raising concerns of further Saudi measures.
Hariri flew to Saudi Arabia last Friday.
The top Lebanese government official, speaking on condition of anonymity, said: "Lebanon is heading toward asking foreign and Arab states to put pressure on Saudi Arabia to release Prime Minister Saad al-Hariri."
Read more
The official said Hariri was still Lebanon's prime minister, echoing other Lebanese government officials who say his resignation had not been received by Aoun, and his government therefore remained in place.
The resignation of Hariri, a business tycoon whose family made its fortune in Saudi Arabia, happened at the same time as a wave of arrests of Saudi princes and businessmen accused of corruption by Crown Prince Mohammed bin Salman.
The senior Lebanese politician close to Hariri said: "When he went (to Saudi Arabia) he was asked to stay there and ordered to resign. They ordered him to read his resignation statement and he has been held under house arrest since."
Two US officials said the Saudis, led by Crown Prince Mohammed, had "encouraged" Hariri to leave office.
The fourth source said: "He is under controlled movement by the Saudis, limited movement."
Hezbollah's parliamentary bloc said Saudi Arabia must halt its interference in Lebanese affairs.
He made a one-day flying visit to the United Arab Emirates, a close Saudi ally, earlier this week before returning to Saudi Arabia.
Hariri's office said in a statement he had received the French ambassador to Saudi Arabia at his Riyadh residence on Thursday. He had also met the head of the EU mission to Saudi Arabia on Wednesday, and on Tuesday the British ambassador and the US charge d'affaires.
State Department spokeswoman Heather Nauert confirmed US Charge d'Affaires Chris Henzel met with Hariri. Asked about reports Hariri was being held in Saudi Arabia, Nauert declined to elaborate on his status or what was discussed, calling the talks "sensitive, private, diplomatic conversations."
Nauert indicated the United States would not treat the Lebanese government any differently as a result of the uncertainty over Hariri.
World news in pictures
World news in pictures
1/40

15 December 2017

Palestinian protesters wave the national flag during clashes with Israeli security forces near the border fence with Israel, east of Gaza City as demonstrations continue over US President Donald Trump's declaration of Jerusalem as Israel's capital

AFP/Getty

2/40

14 December 2017

Hamas supporters take part in a rally marking the 30th anniversary of the founding of the Islamist movement, in Gaza City

AFP/Getty Images

3/40

13 December 2017

Democratic candidate for US Senate Doug Jones thanks supporters as he holds his wife Louise's hand

AP

4/40

12 December 2017

Ultra-Orthodox Jewish men gather during the funeral ceremony of prominent spiritual leader Rabbi Aharon Yehuda Leib Shteinman, who died on Tuesday at the age of 104, in Bnei Brak near Tel Aviv, Israel.

REUTERS

5/40

11 December 2017

A Palestinian protester kicks a flaming tire during clashes with Israeli forces in the West Bank city of Ramallah

AFP/Getty

6/40

10 December 2017

Demonstrators set US and Israeli flags on fire during a protest against Donald Trump's recognition of Jerusalem as Israel's capital, in Istanbul

REUTERS

7/40

9 December 2017

People gather to watch the bikers' procession during the funeral ceremony in tribute to late French singer Johnny Hallyday in Paris

EPA

8/40

8 December 2017

A Palestinian protester uses a sling to hurl stones towards Israeli troops

REUTERS

9/40

7 December 2017

Firefighters monitor a section of the Thomas Fire along the 101 freeway, north of Ventura, California.

Getty Images

10/40

6 December 2017

Palestinians burn an Israeli and a U.S. flag during a protest against the U.S. intention to move its embassy to Jerusalem and to recognize the city of Jerusalem as the capital of Israel, in Gaza City

Reuters

11/40

5 December 2017

Former Georgian President, Mikheil Saakashvili, flashes a victory sign after he was freed by his supporters in Kiev

REUTERS

12/40

4 December 2017

A man exercises in a park on a winter morning in Kolkata, India

REUTERS

13/40

3 December 2017

A supporter of Salvador Nasralla, presidential candidate for the Opposition Alliance Against the Dictatorship, puts a balloon on the shield of a soldier in a protest while the country is still mired in chaos over a contested presidential election in Tegucigalpa, Honduras

REUTERS

14/40

2 December 2017

A man dressed as Santa Claus skiis down a mountain during the Saint Nicholas Day at the Alpine ski resort of Verbier, Switzerland

REUTERS

15/40

1 December 2017

A nurse takes blood for a HIV test for French President Emmanuel Macron as he visits the Delafontaine Hospital on World Aids Day

Reuters

16/40

30 November 2017

An activist pours gasoline as an effigy of President Rodrigo Duterte and U.S. President Donald Trump burns during a protest action against Duterte's plan to set up a Revolutionary Government, along a street in metro Manila, Philippines

Reuters

17/40

29 November 2017

South Korea's Hyunmoo II missile is fired during an exercise at an undefined location in the east coast of South Korea

The Defence Ministry/Yonhap via REUTERS

18/40

28 November 2017

People fall as police fire tear gas to try control the crowd trying to force their way into Kasarani Stadium to attend the inauguration of President Uhuru Kenyatta in Nairobi

REUTERS

19/40

27 November 2017

Rohingya refugee Amina Khatun, 55, rests at the bank of the Naf river after crossing it on an improvised raft to reach Bangladesh, in Teknaf. Two of her sons were killed by gun fire when her village was attacked by Myanmar military, she says

Reuters

20/40

26 November 2017

Mount Agung volcano is seen spewing smoke and ash in Bali

EMILIO KUZMA-FLOYD/via REUTERS

21/40

25 November 2017

A Pakistani protester throws a tear gas shell back towards police during a clash in Islamabad

AFP/Getty Images

22/40

24 November 2017

Zimbabwe's former vice president Emmerson Mnangagwa arrives ahead of his inauguration ceremony to be sworn in as president in Harare

Reuters

23/40

23 November 2017

Comrades of missing crew members express their grief after the Argentine Navy announced that the sound detected in the missing submarine search is consistent with an explosion

AFP

24/40

22 November 2017

Former Bosnian Serb military chief Ratko Mladic shouts at the presiding judge during the verdict hearing in his genocide trial, in The Hague, Netherlands

EPA

25/40

21 November 2017

People and soldiers celebrate after the resignation of Zimbabwe's president, Robert Mugabe

AFP/Getty

26/40

20 November 2017

Israeli security forces carry away an Ultra-Orthodox Jewish demonstrator as they disperse a protest against Israeli army conscription in Bnei Brak, a city near Tel Aviv

AFP/Getty

27/40

19 November 2017

Participants crossing the Jiaozhou Bay Bridge as they compete in the 2017 Qingdao International Marathon on the Sea in Qingdao, in China's eastern Shandong province

AFP/Getty

28/40

18 November 2017

Women shout pro-freedom slogans as people carry the remains of Mugees Mir, a suspected militant who according to local media was killed in an encounter with the Indian security forces in Zakura, during his funeral in Srinagar

Reuters/Danish Ismail

29/40

17 November 2017

Riot police use stones to disperse the convoy of Kenyan opposition leader Raila Odinga as they attempt to access the Uhuru Park grounds upon his return

REUTERS

30/40

16 November 2017

Donald Trump has awkward water bottle moment at the White House while talking about his latest overseas trip in Asia

EPA

31/40

15 November 2017

Military vehicles and soldiers patrol the streets in Harare, Zimbabwe

Reuters/Philimon Bulawayo

32/40

14 November 2017

An Iranian boy rides a bicycle through the rubble from damaged buildings in the town of Sarpol-e Zahab. A 7.3-magnitude earthquake left hundreds killed and thousands homeless two days before.

AFP/Getty Images

33/40

13 November 2017

Gianluigi Buffon reacts during Italy's World Cup qualification match against Sweden. He retired from international duty after the Azzurri failed to go through.

AFP/Getty

34/40

12 November 2017

Pepole hold placards demanding the return of Lebanese Prime Minister Saad Hariri from Saudi Arabia during the annual Beirut International Marathon

EPA

35/40

11 November 2017

Polish nationalists light flares as they take part in the March of Independence 2017 in Warsaw

EPA

36/40

10 November 2017

Protesters rally near the U.S. Embassy in Manila to protest this weekend's visit of President Donald Trump

AP

37/40

9 November 2017

Shiite faithful pilgrims gather between the holy shrine of Imam Hussein and the holy shrine of Imam Abbas for Arbaeen

AP

38/40

8 November 2017

A woman wearing a scarf to cover her face looks on as she waits for a passenger bus on a smoggy morning in New Delhi, India. Air pollution reached unprecedented levels in the city, prompting the government's Central Pollution Control Board to recommend emergency free public transport

Reuters

39/40

7 November 2017

Russian solider stands in line at a military parade, that marks the anniversary of the 1941 parade, when Soviet soldiers marched towards the front lines of World War Two, at Red Square in Moscow, Russia

Reuters

40/40

6 November 2017

A Houthi follower emerges from a gap in a flag as he attends a rally to show support to the Palestinians in Sanaa, Yemen

Reuters
Saudi Arabia warned its citizens on Thursday against travel to Lebanon and said those already there should leave. It has issued similar advice about Lebanon to its citizens before.
Lebanon's Maronite patriarch will visit Saudi Arabia next week and has received "a positive response" from Saudi officials over the possibility of seeing Hariri, his spokesman said.
Patriarch Beshara al-Rai's visit "had been decided on a long time ago. In light of the developments, his mission has become national," Walid Ghayyad said. The patriarch will take a message to the kingdom that "Lebanon cannot handle conflict."
Reuters
Trending Hairstyles
Source : http://www.independent.co.uk/news/world/middle-east/saad-al-hariri-saudi-arabia-lebanese-pm-held-hostage-future-movement-accusation-iran-crisis-a8047411.html