Louisville returns to action Saturday against Eastern Michigan for the first time since beating Grand Canyon last week.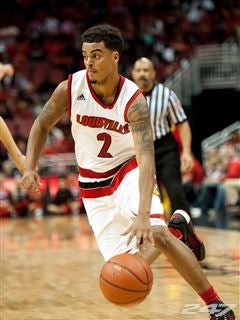 With a week off,
Rick Pitino had the 22nd ranked Cards preparing for EMU's 2-3 zone, which is similar to the one Syracuse employs. The Eagles frontcourt is long and guards Willie Mangum and Ty Toney are aggressive defensively. EMU ranks third nationally in steals at 11.4 a game, and is 17th nationally in defensive field goal percentage, holding opponents to 36 percent shooting from the floor.
"We're preparing for a really good Eastern Michigan team that plays a Syracuse type 2-3 zone," said Louisville sophomore guard
Quentin Snider . "That's what we've been preparing for this whole week. They're real long and their guards try to strip the ball. They are so much extended."
Pitino also had his team working on their own version of the 2-3 zone, something Louisville hasn't been able use much this year.
"We still haven't got the 2-3 defense down," said Snider. "That's what we're still working on. We've got new guys like Damion (Lee) and Trey (Lewis) that haven't played it yet. We're still trying to learn and it's real difficult for them. That's why we're just playing man right now."
Though Louisville's zone define still needs improvement, the Cardinals are second in the nation in scoring defense (55.7) and fourth in field goal percentage defense at 34 percent.
"We mostly reach our offensive goals and now we're trying to reach our defensive goals," UofL sophomore center
Anas Mahmoud said. "Louisville has been known for defense since Coach Pitino came here - how we guard, how we press and defend everybody. We're trying o improve our press and zone defense."
"This group of players we're all new to each other but we're all intelligent and I think we'll catch on pretty soon," said freshman forward
While Louisville might not be as good defensively as they've been in years past, the Cardinals lead the nation in rebounding and scoring margin, and are ninth nationally in field goal percentage (51 percent).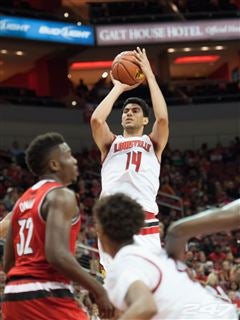 "What this team is better than last year is we move the ball real good," said Snider. "Everytime down the court we get three or four passes, a paint touch or a three-point shot."
Snider, a reserve most of his freshman season, ranks among the top three on the team for minutes played. He ranks fourth in the ACC in assists-to-turnover ration, and is averaging 4.4 assists per contest, highest on the team. Snider also has scored at least nine points in six of seven games, including a season-high 12 vs. Grand Canyon and Samford.
"I'm more aggressive," Snider said. "Last year I was really passive to Montrezl and Terry and watching them play their game. This year I have a bigger role trying to facilitate and find the open man and taking the wide open shots."
Mahmoud struggles to gain weight
Anas Mahmoud continues to struggle adding weight to his 7-foot frame, a fact that irks coach
Mahmoud's playing time has increased the four games, largely because starting center
Chinanu Onuaku has had foul problems, and his production has improved.
"I'm struggling to gain weight but I'm getting stronger," Mahmoud said. "That's the problem Coach P is having with me. I've been trying to gain weight but my body type isn't that way. I lift weights five times per week and I eat all the time. I try to do everything I can."
Mahmoud, currently weighing 213 pounds, isn't just focused on adding more strength to his frame. He's also working to improve his defense.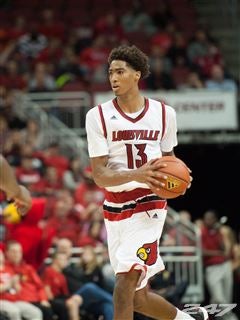 "I'm not focused on offense, I think I can play offense," said Mahmoud. "Defensively, I think I learned a lot about being in the right position on the help side at the right time. What I need to improve on is guarding one-on-one and knowing when to front the man. I think that will help to gain more weight so I don't get pushed around."
Mahmoud has blocked 10 shots the past four games, including four against Grand Crayon. He's one of three UofL big men that rank among the Top 10 shot blockers in the conference.
"I think timing and reading the offensive player (are strengths)," Mahmoud said. "I used to foul all the time, now I time it and block it when he releases it."
Spalding impacts with active defense
Quentin Snider says Louisville's current freshmen class is more talented than is class, which included
Anas Mahmoud and
One of the reasons — 6-10
Raymond Spalding , who is expected to start against Eastern Michigan.
"I think the freshmen this year…are more talented," Snider said. "Ray can do so much stuff and always leads the team in deflections. Donovan (Mitchell) is a great driver and he's shooting the ball real well.
Deng Adel is a bulldozer and can get in the lane anytime he wants. They're real talented."
Spalding, who continues to adapt to
Rick Pitino 's coaching, started for the first time vs. Grand Canyon, totaling 8 points, 7 rebounds and two blocks in just 14 minutes.
"My first week here I don't think I've ever met some one so short that cussed so loud," said Spalding. "He taught me to listen to his message, not the cuss words."
"Coach Rick is really big on defense, rebounding, blocking shots."
With a 7-6 wingspan, Spalding leads Louisville in deflections nearly every practice. Pitino has compared his prized rookie to former star and NBA forward Earl Clark.
"I liked how long he was, athletic, agile, kind of like myself," Spalding said. "They say we have the same type, soft spoken personality. I try to be a really active player."
Trending Hairstyles
Source : https://247sports.com/college/louisville/Article/Louisville-prepares-for-Eastern-Michigan-zone-41945078