Onshore wind energy has become cheaper than electricity from any other source in the UK for the first time, in what could be a landmark moment for renewable energy in Britain.
Yet the Government has been accused of scuppering Britain's best chance of meeting the country's ambitious environmental targets through its continued resistance to onshore turbines, despite growing evidence that they are the most affordable option.
However, new figures show they not only produce cheaper energy than coal, oil or gas power stations, but also remain far cheaper than offshore turbines, which the Government is championing.
> Read more
Wind power is now the cheapest electricity to produce in the UK
Onshore wind farms currently produce about 60 per cent of the UK's wind power output. Although they are set to remain the predominant form of renewable energy in the next few years despite opposition in Westminster – which has stopped subsidies and given the final say on whether a project should go ahead to local residents – supporters of green energy say the country is missing a chance to maximise their potential.
The cost of onshore wind power has fallen from $108 (£70.20) per megawatt hour (mWh) a year ago to $85 today, as they become more efficient and cheaper to build.
Over the same period, coal-fired power stations have seen their costs rocket from nearly $98 mWh to $115 and gas from $100 to $114, after the EU agreed new rules that will greatly increase the amount they must pay for their carbon emissions. Offshore wind costs $175 mWh, according to the research, by Bloomberg New Energy Finance.
There's still a tendency for the general public to believe that renewables are really expensive
Seb Henbest, Bloomberg
A steep decline in borrowing costs, with bank lending rates hovering around all-time lows, is also much more beneficial for wind farms than for fossil-fuel plants. This is because far more of the cost of renewable energy projects relate to their construction, which is funded by loans.
"There's still a tendency for the general public to believe that renewables are really expensive, while coal and gas are really cheap," said Seb Henbest, of Bloomberg, which conducted the research. "This is how it used to be not so long ago, but over the past five years technology costs have come down significantly, along with financing costs."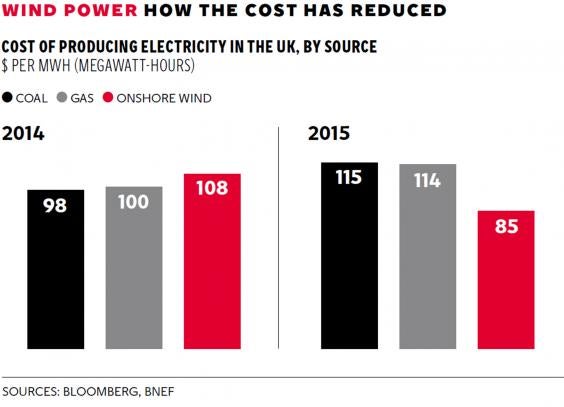 Bloomberg added together all the costs associated with each energy source over their expected lifetime, to arrive at an average unit cost of the electricity if they went into development now.
Read more
Luke Mills, also of Bloomberg, added: "Onshore wind and solar panels are both now much more competitive against established generation technologies than would have seemed possible only five or 10 years ago."
But campaigners say the Conservative Government has made it considerably more difficult for new onshore wind farms to be built since it took office. They argue that, while onshore wind may now be the cheapest energy source, it could still benefit from subsidies and point out that nuclear power and fossil-fuel power plants also receive government support.
"There is no technology in the UK system at the moment that doesn't receive subsidies," said Jimmy Aldridge, a research fellow for energy and climate change at the IPPR think-tank. "There are new subsidies at the moment to pay for coal, gas and nuclear to compensate for the fact that the business case for those technologies has changed in response to new cheaper renewable technologies."
Eco-friendly cities: in pictures
Eco-friendly cities: in pictures
1/10

1. Copenhagen, Denmark

55% of residents in the Danish capital cycle to work or school, and over 30% of public transport uses renewable fuel. The city is also aiming to be carbon-neutral by 2025.

Getty Images

2/10

2. Stockholm, Sweden

All trains in the Swedish capital run on renewable fuels, and buses run on a hybrid of ethanol and electricity. The city also has seven nature reserves which improve air quality.

Getty

3/10

3. Hamburg, Germany

The German city, which was the European Green Capital in 2011, uses 200,000 low-energy lamps across 400 public buildings. 3,000 hectares of state-owned parkland are also available for the million people who use them every week.

Getty Images

4/10

4. Vitoria-Gasteiz, Spain

There are over 130,000 trees and 90km of bicycle lanes in this northern city of Spain. Citizens also have access to 210 organic farming plots, and there is a public green space within 300 metres of every house.

5/10

5. Nantes, France

As the first city in France to re-introduce electric tramways, Nantes has set itself targets to reduce air pollution and carbon dioxide emissions. 15% of daily travels are undertaken on public transport, and only 11% of rubbish goes to landfill.

6/10

6. Bristol, UK

The birthplace of Banksy and this year's European Green Capital, Bristol employs around 9000 people in its low carbon economy initiative. Additionally, 34% of the city is made up of green and blue open spaces and homes have become 25% more efficient over the last decade.

Getty Images

7/10

7. Ljubljana, Slovenia

The Slovenian capital has a pedestrian-only city-centre and 94% of residents take part in the organic waste collection system. With over 190km of cycle paths and almost all residents living less than 300m from public transport, the city has promoted environmentally-friendly ways of travelling.

8/10

8. Oslo, Norway

The Norweigan capital has the world's most electric cars per capita, reducing emissions by 50% since 1991. With the aim to make public transport fossil fuel-free by 2020, the city's authority is making sure residents are as eco-friendly as possible.

Getty Images

9/10

9. Brussels, Belgium

Best known for its beer and chocolate, the city which is home to the European Parliament, reduced CO2 emissions by 13,000 tonnes between 2007 and 2009. By 2018, it hopes to have reduced car traffic by 20% from its 2001 level.

10/10

10. Nijmegen, Netherlands

Located on the River Waal, this lesser-known Dutch city fuels its buses with biogas and citizen participation is encouraged through multiple green initiatives. Around 14,000 homes are heated using a network of waste heat, and the city aims to be energy neutral by 2040.
The Government has agreed a deal with EDF that would guarantee the Big Six energy provider £92.50 per megawatt hour of electricity it generates, rising with inflation, up to 2061. This amounts to nearly three times the current price and is likely to amount to an effective subsidy of billions of pounds.
Meanwhile, ageing coal, gas and nuclear power generators will be paid an extra £1bn in 2018 alone for guaranteeing to stay open and keep the lights on, Mr Aldridge said.
Friends of the Earth chief executive Craig Bennett said: "If the Government wants to see lots of investment in the cheapest form of low-carbon energy to help us tackle climate change, then the fastest way to do that would be to offer a bit of subsidy to reduce the investment risk."
Craig Bennett, Friends of the Earth's chief executive (Teri Pengilley)
He said recent government cuts to solar subsidies would further undermine Britain's attempts to green its energy supply – along with the prospect of creating a lucrative renewable-energy industry.
"Just when we're probably five years away from solar really being able to compete with fossil fuels on price, you see the Government pulling the rug from under solar," he said.
"The point with renewable energy as a whole is that it is getting cheap as it gets to scale and as it becomes ever more successful but for that to happen you need the Government to support it."
A spokesman for the Department for Energy and Climate Change said: "Government support has driven down the cost of renewable energy significantly, enabling renewables to compete with other technologies… Our priority is now to move towards a low-carbon economy whilst ensuring subsidies are used where they are needed most, to provide the best value for money for hardworking bill payers."
Wind energy: Dispelling the myths
Trending Hairstyles
Source : http://www.independent.co.uk/environment/wind-power-now-the-cheapest-source-of-electricity-but-the-government-continues-to-resist-onshore-a6685326.html