Nico Rosberg has opened up on how much he respects Lewis Hamilton and the "greatest satisfaction" he gets from beating his Mercedes team-mate - but admits it's too much for the pair to be friends.
The Mercedes drivers, currently locked in a fierce title battle with Rosberg just one point ahead of Hamilton, have battled throughout their racing careers - from karting to F1 - and are now on their "final warning" before team orders are imposed having crashed twice this season.
Rosberg, who claimed the first four races in 2016 but has won only once since, spoke to >The Guardian about the Brit after the disappointment of a demotion to third place and a Hamilton victory at the British GP.
Wolff: Red Bull a major threat
"Beating Lewis … he's one of the sweetest opponents." the German said. "He's one of those opponents where you get the greatest satisfaction from beating him because he's world champion.
"I have huge respect for him but, well, we're not best friends at the moment. That's the difficulty between us now. We're just both so competitive and that makes it difficult to be friends because the competition is so extreme.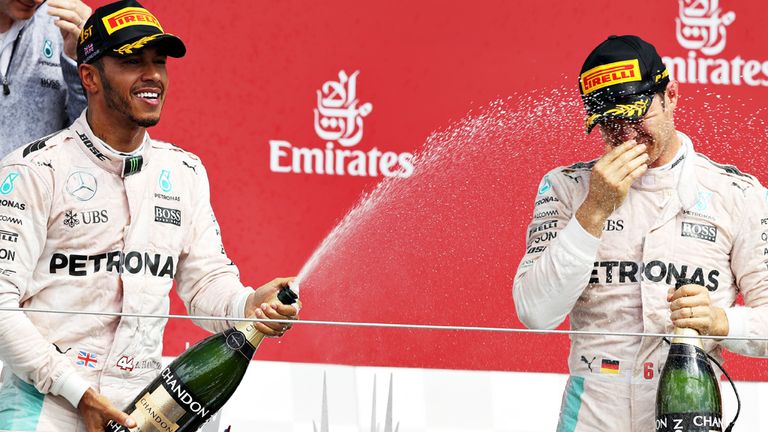 "It was the same back then. How many pizzas could we eat? Who could run fastest from the lift to the hotel room? It would be competition all the way but there was not the surrounding influence with a team, the media and money. That makes it difficult now.
"I do recognise his achievements. He's done some great things and he's been beating me. I have to fight back and that's the awesome challenge."
When's the Hungarian GP on Sky?
Rosberg's streak, seven in total when counting his end-of-2015 run, now appears a distant memory with Hamilton stating he feels "fresh, powerful and confident" after securing back-to-back wins.
But the former Williams driver believes his team-mate's "wave" is coming to an end and is doing his all to stay positive amid a barren spell.