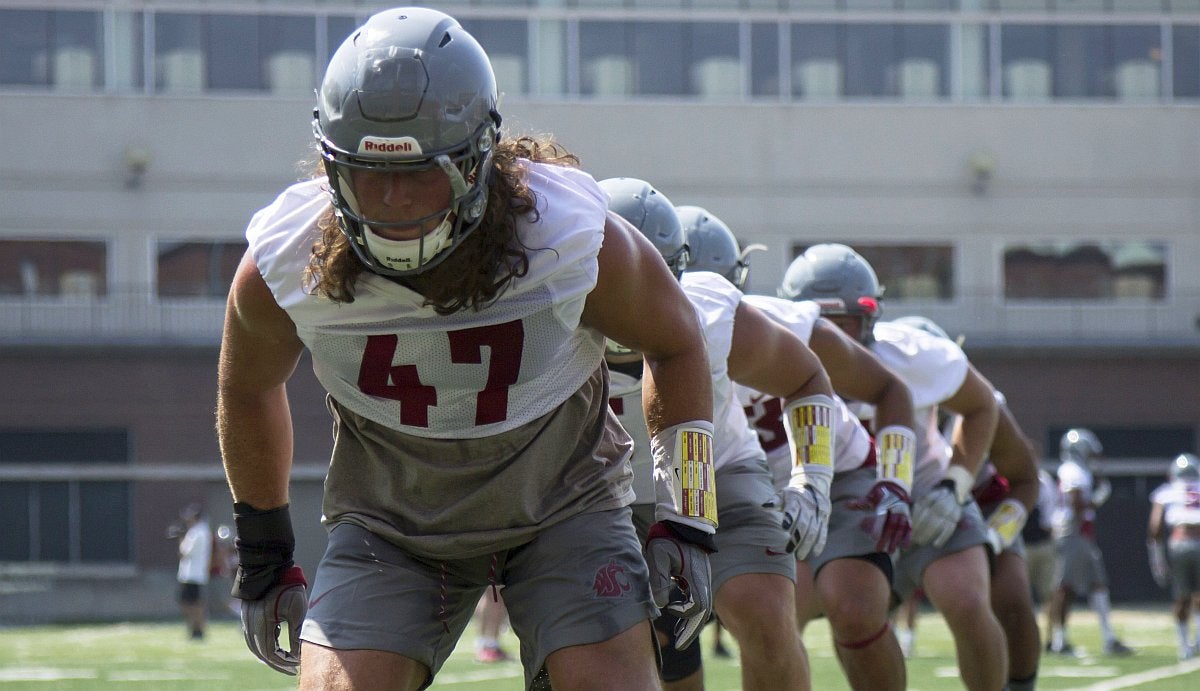 Peyton Pelluer (Photo: Cougfan.com/Whittney Thornton)
IT'S BEEN 84 DAYS since Washington State last buckled up the chinstrap and hit the field. But football returns to the Palouse today with the first of 15 spring football practices.
Washington State will practice Tuesdays, Thursdays and Saturdays from March 22 – April 24.  
The start times for the weekday practices just yesterday were all moved up an hour, to 2:30 pm. The full schedule is at the bottom of this article.
The first two days of the spring are NCAA-mandated helmets-only sessions, after which the pads go on.
The spring game will be held April 21 at Joe Albi Stadium in Spokane at 1 p.m and will be televised on the Pac-12 Networks.  Under Mike Leach the spring game is always the penultimate practice session, with the 15th and final session held in Pullman. Leach uses that final session to work on areas from the spring game the coaching staff has identified as most in need of attention.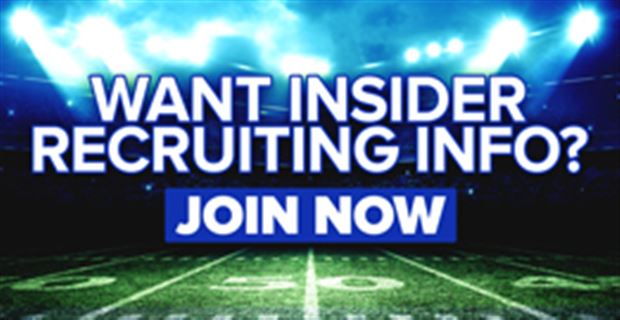 There are tons of storylines this spring but two of the more prominent are at QB and in the assistant coaching ranks.
Interestingly, Leach on Wednesday tabbed his top three QBs headed into spring drills: Trey Tinsley, Anthony Gordon and Cammon Cooper.  None of the five QB candidates this spring, with Connor Neville and John Blesoe the other two, have taken a snap behind center in a game for the Cougs. Note: Graduate transfer QB Gardner Minshew arrives in May.
Meanwhile, WSU has six new assistant coaches this spring including the new 10th assistant in college football this season. How quickly the new coaches and their position groups mesh this spring will be something to watch.
To recap the coaching moves:  Tracy Claeys replaces Alex Grinch as defensive coordinator, Mason Miller replaces Clay McGuire as offensive line coach, Eric Mele replaces Jim Mastro as running backs coach, Matt Brock replaces Mele as special teams coach -- and will also coach outside linebackers in replacing Roy Manning.   Steve Spurrier Jr. replaces Derek Sage as outside receivers coach, Kendrick Shaver replaces Grinch as safeties coach -- and will also coach nickels -- and Darcel McBath replaces Grinch as cornerbacks coach.  Also, Tyson Brown replaces Jason Loscalzo as strength and conditioning coach.
While the QBs and new coaches are front and center, the two lines this spring represent must-see viewing. WSU returns only two starters on the o-line and the d-line will be replacing two of three down linemen starters, plus the RUSH.  Quality depth also needs to be developed and established.
WSU returns four starters on offense and six on defense (WSU is counting linebacker Peyton Pelluer who played in three games last year among its returning starters).   The returning starters on offense: LT Andre Dillard, Center Frederick Mauigoa and inside receivers Kyle Sweet and Renard Bell.  The returning starters on defense: DE Nnamdi Oguayo, Pelluer, LB Jahad Woods, Nickel Hunter Dale, CB Darrien Molton and safety Jalen Thompson.  Note: RB James Williams and CB Marcus Strong don't meet the Pac-12 criteria for returning starters but effectively, they be seen as starters too.
Six new Cougs enrolled in January and all bear watching this spring with WSU replacing 19 seniors off last season's two-deeps.  They are Cooper, outside WR Rodrick Fisher, RB Max Borghi, DL Jonathan Lolohea, LB Kendrick Catis and OL Keenan Forbes.
WSU SPRING SCHEDULE
Thursday, March 22: 2:30 pm
Saturday, March 24: 10:30 am
Tuesday, March 27: 2:30 pm
Thursday, March 29: 2:30 pm
Saturday, March 31: TBA
Tuesday, April 3: 2:30 pm
Thursday, April 5: 2:30 pm
Saturday, April 7: TBA
Tuesday, April 10: 2:30 pm
Thursday, April 12: 2:30 pm
Saturday, April 14: TBA
Tuesday, April 17: 2:30 pm
Thursday, April 19: 2:30 pm
*Saturday, April 21: 1 pm, Crimson and Gray Game in Spokane
Tuesday, April 24: 2:30 pm
RELATED: How WSU will go about new spring official visits
Trending Hairstyles
Source : https://247sports.com/college/washington-state/Article/Spring-football-kicks-off-today-at-Washington-State-with-the-first-of-15-practices--116557390