India were the best side in 2016. They got even better in 2017. Detractors will site factors like playing excessively at home but that is far from truth. The win-loss ratio tells a startling story of the dominance. India's win-loss ratio was 2.82 in 2016. That shot up to 3.08 in 2017. In the same year the next best was South Africa (1.92). Aren't these numbers indicative of Virat Kohli's men's dominance across formats?
India remain the No. 1 Test side, the No. 2 ODI side and the No. 3 T20I side. This is a simpler indicator. Now to the year…
Shaky New Year
Success apart, 2017 was drama-filled. Pity the journalists who cover Indian cricket. Just pity them. The New Year hangover was still heavy when Supreme Court, dropped a bombshell on BCCI on January 2. Anurag Thakur and Ajay Shirke were removed as President and Secretary respectively for not complying with the SC order in regards to implementation of RN Lodha committee reforms.
This was a trailer. Two days later MS Dhoni stepped down as India's limited-overs captain. It was a matter of time. For all his success and accolades, Dhoni was running past his expiry date as skipper. It was time Kohli took over the reins in limited overs too and gave the side his own identity. But no one expected it to happen like this.
The news broke on January 4, around half past nine at night. Bedlam ensued. India's most successful and celebrated captain took the coveted cloak off. The nation was caught in frenzy and nostalgia.
Dhoni led India A in a warm-up game against England that drew a full house as it gave fans the opportunity to see him lead in Indian blues for the final time.
New dawn in blues, but with a rewind mode
Kohli is known to be close to Yuvraj Singh. Kohli's appointment as the skipper across formats saw Yuvraj making a comeback for the nth time.
A battered England were back from Christmas break. Fatherhood touched upon Joe Root. The 0-4 scars in the Test series had now neared a month. England are a much superior and improved ODI unit. They proved the hypothesis by slamming 350 in the first ODI at Pune.
At 63 for 4 in the 12th over India stared at big defeat. Kohli continued in his autopilot mode but India found a new hero in the local boy Kedar Jadhav. The duo added 200 off 147 balls for the fifth wicket. Despite the array of strokes, Jadhav was not spared by his outrageously fit captain when he denied the quick singles or the seemingly impossible twos.
Kohli (122 off 105 balls) and Jadhav (120 off 76) scripted one of India's finest chases. Jadhav stole the thunder but Kohli left the fraternity speechless with a six.
England got to another excellent start at Cuttack, where Rohit Sharma's absence at the top hampered the batting unit. India had slumped 25 for 3 in the fifth over with Chris Woakes wrecking India's top-order. Kohli was lured into drives before an out-swinger did him.
It was back to the good old 2000s with Yuvraj and Dhoni repairing the damage. Yuvraj marked his comeback with a 127-ball 150, his highest score in this format. A relaxed Dhoni, relieved of captaincy duties, bludgeoned 6 sixes en route 122-ball 134. The partnership brought back many happy memories of the duo batting together in their springing 20s.
Believe it or not, the show melted Yograj Singh's heart as he went on to forgive Dhoni, 'the Ravana', who had usurped his son's rights and was cursed to be penniless.
Jadhav, Ravindra Jadeja and Hardik Pandya's late blitz got India to 381.
England could have chased it down had Eoin Morgan not been run out in the penultimate over for 102. England managed 366 but the series was won 2-0.
At Kolkata, England were restricted to 321 courtesy Pandya's 3 wickets. This was the first of many memorable shows this year from Pandya. Kohli got his customary fifty, Yuvraj supported him well but India were in a spot of bother at 171 for 5 in the 32nd over.
Jadhav (90) and Pandya (56) added 104. A brilliant final over from Woakes saw Jadhav fall to the penultimate ball as England clinched a win by 5 runs. Jadhav, India's new sensation and a self-confessed Salman Khan fan, danced his way to the Man of the Series award.
The cerebral Chahal
Kohli's T20I captaincy stint did not start on a good note. Tymal Mills lived up to the hype and Moeen Ali stifled the Indians to 147 in the first T20I. Morgan and Root teamed up to walk England out with an easy win.
A place in the Indian side for Zimbabwe tours in recent pasts has been like candies for good IPL shows. Yuzvendra Chahal had been a beneficiary in 2016. He was forgotten like most others since. He was brought back for the England T20Is and shone as the brightest spot in the defeat with figures of 2 for 27 from his 4 overs.
With Kanpur conquered, England shifted their attention to Nagpur and aimed to seal the series. They were cakewalking to another win. England needed 32 from the last 4 overs and had 7 wickets in hand. At crease were well set Ben Stokes and Root, both batting in the 30s. Then Ashish Nehra and Jasprit Bumrah teamed to exhibit one of finest shows of death bowling.
24 came off the next three overs. Bumrah was guarding 8 off the final 6 balls. At crease were Root and his Mumbai Indians' teammate Jos Buttler. Bumrah removed both, gave away only 2 (1 bye) as India pulled out a 5-run win.
Later on, Bumrah would go on to scale his reputation as one of the finest limited-overs bowlers.
The decider was played at Bengaluru. Suresh Raina made the opportunity count with 63 and Dhoni (believe it or not) slammed his first T20I fifty. Yuvraj assaulted Chris Jordan en route 10-ball 27. India got 202 on the board.
England were tied up in the Chahal web. Mind you, the senior leg-spinner Amit Mishra played as well and returned figures of 4-0-23-1. But it was his younger state-mate who stole the show with 6 for 25. Bumrah played the perfect foil with 3 for 14. India had found their bowling crux in T20Is as the strong England batting faltered for 127. Kohli's men had bagged another series 2-1.
CoA   
It was in the middle of the limited-overs leg against England that SC appointed Vinod Rai as head of BCCI's four-member Committee of Administrators (CoA) in order to run the affairs of BCCI. The team included Ramachandra Guha, Diana Edulji and Vikram Limaye (MD and CEO of IDFC).
Kohli-Kumble rift overshadows Champions Trophy
At first, there were doubts over India's participation in the mega event. ICC Chairman (and former BCCI President) Shashank Manohar bowled a googly to BCCI. He passed a new revenue model that cut down BCCI's share drastically. The model was supported 13:1 and the Indian board threatened to pull out of Champions Trophy.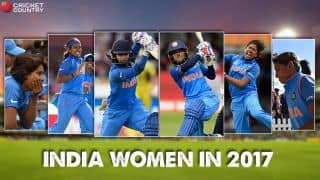 In the meantime, coach Anil Kumble had rubbed BCCI the wrong way. With negotiations still on, Kumble stated that India should play the tournament. He also went on to demand more pay, as he wanted himself and other coaches to be compensated for not being involved in tournaments like the IPL.
Right senses prevailed. Despite the delay, the squad for Champions Trophy was announced. Meanwhile, BCCI had advertised for the position of new coach.
Soon reports surfaced on the strained relationship between Kohli and Kumble. The latter was referred to as a headmaster. The buzz had taken its shape as the fallout was apparent courtesy their body languages. The concerned parties maintained silence over the issue. Both BCCI dignitaries and stalwarts like Sourav Ganguly, Sachin Tendulkar and VVS Laxman (who form the Cricket Advisory Committee), stepped in attempting truce.
Around the same time, adding more salt to controversies, Guha stepped down from CoA and made his detailed resignation letter public.
Champions Trophy, almost defended
Once cricket started, everything else took a backseat. Most top international cricketers are of the opinion that Champions Trophy is a tougher playing ground than World Cup. there is some truth in that, for there are no minnows to draw easy points off. India entered the tournament as favourites.
India were placed in Group B alongside Pakistan, South Africa and Sri Lanka. The top-billed tournament match commenced on June 4 with India taking on Pakistan at Edgbaston.
Rohit returned with a bang. He top-scored with 91. Fifties from Shikhar Dhawan, Kohli and Yuvraj and a 6-ball 20 not out from Pandya took India to 319 off 48 overs. Rain revised Pakistan's target to 289 off 41 overs. They were shot out for 164.
India overlooked Chahal despite his success against England. The two spinners in the squad were Jadeja and Ravichandran Ashwin. Most other sides relied on wrist-spin, but India hadn't realised the importance of this art in limited-overs yet.
Dhawan's 125 took India to 321 against Sri Lanka at The Oval, but the bowlers failed to defend it. Danushka Gunathilaka, Kusal Mendis, Kusal Perera, Angelo Mathews and Asela Gunaratne made the chase a cakewalk.
India's defeat against Sri Lanka had made their game against South Africa a virtual quarter-final. South Africa panicked at the big stage, again. From 116 for 1, they collapsed to 191. India won with ease.
India faced Bangladesh in the semi-final. Rohit and Kohli made a mockery of Bangladesh's bowling as they chased down 265 in the 41st over. Rohit brought up his 11th ODI hundred. He would go on to score 5 more in the next six months.
Pakistan had entered the tournament as the eighth-ranked side in the tournament and they played to their reputation against India. Since then, they caught some momentum. They went on to beat South Africa, Sri Lanka and a very strong England in the semi-final to set another date with India in the final at The Oval.
Bumrah had Fakhar Zaman caught behind. The third umpire would (rightly) go on to rule it as a no-ball. India went on to rue this for the remainder of the match. Zaman bludgeoned his way to his maiden hundred. He was severe on the Indian spin twins as Pakistan got 338.
Mohammad Aamer took on from there. He sent back Rohit, Kohli and Dhawan inside 10 overs. Hasan Ali then wrecked the middle-order. Pandya's 43-ball 76 till he was run out kept India alive, but that was it. India succumbed to a 180-run defeat as Pakistan scripted a fairytale en route their maiden Champions Trophy win.
India came close in replicating Australia and becoming only the second team to win back-to-back editions of the Champions Trophy. A dream ended. India paid the price for not having enough faith in wrist spin.
The Caribbean sojourn
Ahead of the West Indies tour, Kumble dropped a bombshell as he stepped down from his role. He announced the same with the tweet of his resignation letter.
Thank you! pic.twitter.com/eF5qVzdBRj

— Anil Kumble (@anilkumble1074) June 20, 2017
The first ODI was abandoned. Rohit was rested for this series. Ajinkya Rahane filled in as opener. Rahane's hundred and a brisk 87 by Kohli led India to a comfortable win. Chinaman bowler Kuldeep Yadav, who had made his Test debut earlier this year, made his ODI debut in the first match but could not bowl as it was abandoned. The second ODI gave him the chance. Kuldeep immediately impressed with 3 for 50.
In the third ODI, on a slow track at North Sound, Dhoni starred with 78* as India marched to another win. Kuldeep and Ashwin picked 3 wickets each.
West Indies pulled off a shock win in the fourth ODI. They managed just 189 and bowled out India for 178. Dhoni was criticised for a painstaking 114-ball 54, the slowest fifty of his career.
India came back strong with Mohammed Shami and Umesh Yadav claiming 4 and 3 wickets respectively to restrict West Indies to 205. Kohli eased to another hundred as India took the series 3-1.
Three days later, the teams would square off in the only T20I. The galaxy of stars returned for West Indies. Chris Gayle, Jerome Taylor, Marlon Samuels, Sunil Narine, Samuel Badree and Carlos Brathwaite formed the strong West Indian line-up.
India were blown away by another Evin Lewis hundred. A total of 9 sixes were hit off Ashwin and Jadeja as West Indies won by 9 wickets.
Kohli-Shastri united
>The coach selection drama continued to unfold. CoA were pressurising CAC to announce the choices. Sources within BCCI had made it clear that Ganguly was foiling the bid of Ravi Shastri's return, but Shastri was backed by Kohli himself. He eventually made a return.
CAC had also named Rahul Dravid and Zaheer Khan as batting and bowling consultants respectively. However, Shastri was adamant on his own coaching troop, which consisted of Bharat Arun as bowling coach. Shastri had his way. The Kohli-Shastri pair was united.
Domination in Sri Lanka 
Rohit was back as opener for the Sri Lanka ODIs. He slammed 2 hundreds, Kohli added 2 more to his tally and Dhoni remained unbeaten in all 4 innings he batted. However, the first one to inflict serious damage was Dhawan. He belted a 90-ball 132 not out in the series opener.
Akila Dananjaya almost won Sri Lanka a game with his 6-for but India found Bhuvneshwar Kumar and Dhoni as their rescuers. Bumrah made amends for the Champions Trophy final by winning Man of the Series. He picked 15 wickets at 11.26 and an economy rate of 3.90.
Sri Lanka put up a better show in the one-off T20I, reaching 170 but Kohli's 82 and Manish Pandey's fifty ensured another easy Indian win.
India had earlier won the Test series 3-0, which meant they clean swept Sri Lanka 9-0 across formats.
There was no Jadeja and Ashwin this time. India had new pair of wrist spinners in Chahal and Kuldeep. This duo kept the stalwarts out for remainder of India's outings in coloured clothes.
The Kangaroo and Kiwi hunt
Australia were a potent threat. They had lost the Test series in India, a Test in Bangladesh and hadn't made it to the knockouts in Champions Trophy. They were without Mitchell Starc and Josh Hazlewood. India, too, did not have the services of Dhawan.
India were reduced to 11 for 3 at Chennai and lost half the side by 87. Pandya (83) and Dhoni (79) took India to 281. Rains reduced it more like a T20 affair. Australia, chasing 164 in 21 overs, fell 26 short.
Glenn Maxwell had kept Australia in the hunt before being outfoxed by Chahal. Chahal would go on to dismiss Maxwell all four times the Australian batted in that tour.
The second ODI at Kolkata was played in extreme hot and humid conditions. Kohli braved the odds to stroke a 92. India were bowled out for 252 before Kuldeep (with a hat-trick) and Bhuvneshwar (6.1-2-9-3) routed Australia for 202.
Fifties from Rohit, Rahane and Pandya guided India to a 3-0 lead at Indore. Australia finally managed a win in Bengaluru. The opening stand of 231 between Warner and Aaron Finch did the job for them. India fought but fell 21 runs short. Rohit's hundred helped India win the Nagpur ODI and take the series 4-1.
India won the rain-shortened first T20I while they failed to clear the Jason Behrendorff hurdle in the second. The series ended 1-1 as the final T20I got abandoned due to rain.
New Zealand would go on to pose a steeper challenge. Their masterstroke of letting Tom Latham bat in the middle-order paid off as they won the Mumbai ODI to go up 1-0. Latham and Ross Taylor swept the Indian spinners away to a 200-run stand.
Earlier in the game, Kohli had gone past Ricky Ponting's tally of 30 ODI hundreds to be the second highest century-maker in ODIs.
India won comfortably at Pune to level the series. India put up 337 at Kanpur courtesy hundreds from Rohit and Kohli and their 230-run stand. New Zealand almost pulled it off but Bumrah's brilliance came in the way. A 6-run win was achieved and India took the series 2-1.
The T20Is were as close at it got. The Delhi T20I was Ashish Nehra's farewell game. India made it memorable by notching up a big win, their first against New Zealand in the shortest format.
New Zealand, the then No. 1 T20I side, came back hard at Rajkot. Colin Munro slammed his second T20I hundred of the year to help New Zealand to 196. Trent Boult's 4-for meant the series was levelled.
Thiruvananthapuram was set for its debut. Rains meant it had to be an 8-over affair. New Zealand bowlers did well on a sluggish track to restrict India to 67 before falling victim to Bumrah's mastery. They fell short by 6 runs and lost the series as Bumrah returned with figures of 2-0-9-2.
Sri Lanka, again
The Test series ended on a controversial note at Delhi. The Sri Lankan cricketers found it difficult to breathe in the polluted Indian capital and as a result, fielded with masks on. This did not go well with the home side. However, Sri Lanka managed to secure a draw.
The teams then headed to a fresher Dharamsala. Sri Lanka had a new captain in Thisara Perera, their seventh in 2017 across formats. India were led by Rohit in absence of Kohli, who had taken a break. The reason broke out later. Kohli and Bollywood star Anushka Sharma got married. It's a different story that it promised to create more buzz than the ongoing series. Thanks to Rohit, cricket still managed the spotlight.
Rohit's captaincy stint too started slow like most of his innings and the pattern of his career. Suranga Lakmal's brilliance in the moving conditions reduced India to 29 for 7. The innings received a Dhoni boost and India got to 112. Sri Lanka walked with a victory, thus ending their 12-ODI losing streak.
Rohit turned on the beast mode at Mohali, bludgeoning his third double-hundred in ODIs. His 208*, as captain and on the day of his second wedding anniversary, saw India script a 141-run victory. The other star of the show was newcomer Shreyas Iyer, who stroked to a 70-ball 88.
Been there, done that – thrice now! @ImRo45 went on to equal and break several records when he scored his third 200-plus score in ODIs. >pic.twitter.com/xqR7lJG80H

— Mumbai Indians (@mipaltan) December 14, 2017
Sri Lanka met the Dhawan hurricane at the coasts of Visakhapatnam. Dhawan slammed an 85-ball 100 not out as India sealed the series 2-1. The other architects of the win were spin twins Chahal and Kuldeep.
Kuldeep dismissed Upul Tharanga for 95, but it was Chahal who possibly bowled the 'ball of the ODIs in 2017' to get rid of Angelo Mathews.
Another Sri Lankan Whitewash
Chahal's 4-for, KL Rahul's 61 and the Dhoni-Pandey stand of 68* saw India pull off their biggest T20I win (by 93 runs). Cuttack was ticked off.
Rohit marched to the joint-fastest T20I hundred off 35 balls to power India to its highest score in this format. Responding to India's 260, Sri Lanka were bowled out for 172.
Rohit Sharma = the breaker of records

After his third double ton in ODIs, he went on to score his second in T20Is, and broke several records in the process.#INDvSLpic.twitter.com/4WMmCZpcgX

— Mumbai Indians (@mipaltan) December 23, 2017
The Mumbai T20I was closely fought. Dhoni sealed it off with a boundary in the final over. India ended 2017 with a 3-0 whitewash. While most of the regulars were resting in the T20I series, India found stars in their fringe players. Washington Sundar, Jaydev Unadkat and Rahul impressed the most. 
India in ODIs, 2017
In short, India won series against England, West Indies, Australia, New Zealand and twice against Sri Lanka. They also came runners-up in the Champions Trophy.
Best Batsmen
| | | | | | | | |
| --- | --- | --- | --- | --- | --- | --- | --- |
| Players | M | R | HS | Ave | SR | 100s | 50s |
| Virat Kohli | 26 | 1,460 | 131 | 76.8 | 99.1 | 6 | 7 |
| Rohit Sharma | 21 | 1,293 | 208* | 71.8 | 99.5 | 6 | 5 |
| Shikhar Dhawan | 22 | 960 | 132* | 48.0 | 101.4 | 3 | 6 |
| MS Dhoni | 29 | 788 | 134 | 60.6 | 84.7 | 1 | 6 |
| Ajinkya Rahane | 12 | 586 | 103 | 48.8 | 77.7 | 1 | 7 |
Best Bowlers
| | | | | | | | |
| --- | --- | --- | --- | --- | --- | --- | --- |
| Players | M | W | BB | Ave | SR | Econ R | 5w |
| Jasprit Bumrah | 23 | 39 | 5-27 | 26.3 | 30.6 | 5.13 | 1 |
| Hardik Pandya | 28 | 31 | 3-40 | 35.5 | 38.1 | 5.57 | 0 |
| Bhuvneshwar Kumar | 24 | 28 | 5-42 | 33.9 | 40.2 | 5.05 | 1 |
| Kuldeep Yadav | 14 | 22 | 3-41 | 24.8 | 30.4 | 4.88 | 0 |
| Yuzvendra Chahal | 14 | 21 | 3-30 | 28.6 | 34.5 | 4.95 | 0 |
India in T20Is, 2017
Won series against England, New Zealand and twice against Sri Lanka. Lost to West Indies. Drew level with Australia.
Best Batsmen
| | | | | | | | |
| --- | --- | --- | --- | --- | --- | --- | --- |
| Players | M | R | HS | Ave | SR | 100s | 50s |
| Virat Kohli | 10 | 299 | 82 | 37.4 | 152.6 | 0 | 2 |
| Rohit Sharma | 9 | 283 | 118 | 31.4 | 171.5 | 1 | 1 |
| KL Rahul | 7 | 279 | 89 | 39.9 | 140.9 | 0 | 3 |
Best Bowlers
| | | | | | | | |
| --- | --- | --- | --- | --- | --- | --- | --- |
| Players | M | W | BB | Ave | SR | Econ R | 5w |
| Yuzvendra Chahal | 11 | 23 | 6-25 | 14.1 | 10.8 | 7.83 | 1 |
| Kuldeep Yadav | 8 | 12 | 3-52 | 18.5 | 14.5 | 7.65 | 0 |
| Jasprit Bumrah | 11 | 12 | 3-14 | 20.0 | 17.3 | 6.92 | 0 |
The No. 1 Test side
India played 11 Tests in 2017, of which 6 came against a relatively weak Sri Lankan side. The toughest challenge was against Australia, and it was one of the most closely contested series of the year. 
India welcomed Bangladesh for the first time. The solitary Test saw India pile up 687 for 7. Kohli got to a double hundred. In doing so, he became the only cricketer to score 4 double hundreds in as many consecutive series. Murali Vijay and Wriddhiman Saha scored hundreds as well, while Cheteshwar Pujara and Jadeja crosssed the fifty-mark.
India didn't enforce follow-on and set a target of 459. Ashwin and Jadeja went on to dismantle Bangladesh twice.
Smith vs Kohli
The Border-Gavaskar Trophy was billed as the contest between Steven Smith and Kohli, two of the finest modern batsmen. Australia were practicing in Dubai for the Indian challenge.
Australia exploited India's weakness in handling top-notch spin. On a minefield at Pune, Smith showed his class with a second-innings 109 and Steve O'Keefe went on to take 12 wickets to see Australia take a lead.
The 333-run defeat demoralised the hosts. Critics lashed onto Kohli who managed 0 and 13 in the Test. India were written off.
India's miseries continued in Bengaluru. Barring local boy Rahul's 90, no Indian batsmen crossed the 30-mark in the first innings. Nathan Lyon produced one of the finest spells (8 for 50) to shoot out India for 189. Australia took a lead of 87.
Pujara stood the stern test. The spinners were accurate and Starc and Hazlewood were breathing fire. Pujara fought his way to 92 and got support from Rahane who laboured to 52. Saha with a 20 not out tried well to keep pushing the lead.
Australia needed 188. India bowled them out for 112, courtesy Ashwin's 6-for. The innings saw one of the biggest controversies of the year. Smith was adjudged LBW off Umesh Yadav as the ball struck him low. He was found consulting the dressing-room for their approval on review. An angry Kohli gave his counterpart a rude send-off for flouting the game's rules.
It did not end on the field. Smith apologised and called the moment a 'brain-fade' while Kohli put it as a deliberate act. The series was square and tempers were only flaring up.
Runs had dried up from Kohli's bat and worse; the Australian media did their best to bring him down.
The Ranchi Test saw Smith's mastery yet again. His unbeaten 178 and Maxwell's maiden Test hundred placed Australia in a good position. Kohli injured his shoulder while trying to stop a boundary.
Replying to Australia's 451, India lost half their side for 320. Kohli, Rahane and Karun Nair failed. Pujara and Saha took on. Pujara got a double hundred while Saha stroked to his second hundred of the year to put Australia under pressure.
Australian camp suffered jitters when they found themselves at 63 for 4 with Smith suffering another brain fade moment and shouldering arms to a straight ball from Jadeja. Shaun Marsh and Peter Handscomb went on to bat for over 61 overs to secure a draw. 
The match had its share of controversy. Maxwell made a stop similar to the one that got Kohli injured. He went on to mock the Indian skipper's injury. Later, when Warner fell towards the end of the fourth day's play, Kohli would give him a 'shoulder' send-off.
The decider was played at Dharamsala. India had reasons to worry as the conditions in the hills would support the Australian style of bowling. The other blow was Kohli's unavailability. Rahane took charge and Kuldeep was handed his Test cap.
Kuldeep immediately impressed with 4 wickets in the first innings couldn't breach the Smith fort. Smith's 111 took Australia to 300. India managed a 32-run lead before the seamers and spinners combined to bring about a great Australian fall.
While Bhuvi started with moving the ball, Umesh, Ashwin and Jadeja went on to pick 3 wickets each and Australia collapsed to 137. India completed a win by 8 wickets. The Border-Gavaskar Trophy was regained.
The Sri Lanka tour saw little challenge thrown at the visitors. India won the first Test at Galle by 304 runs. The next two Tests were won by an innings. Dhawan, filling up for the injured Vijay, marked a memorable comeback in whites. Rahul continued his rich form while Ashwin and Jadeja continued to make merry. Shami marked an exceptional return. 
The series also saw Pandya's debut. He scored a fifty in his maiden innings and later went on to get his maiden hundred.
The Kohli series
Sri Lanka almost pulled off an upset at Kolkata. In seam-friendly conditions, they shot out India for 172 and managed a 122-run lead. India started well in the second innings but the middle-order was a big letdown. Sri Lanka were still in the hunt before Kohli took things in his hand. He scored his 50th international hundred and Sri Lanka were set 231 for win.
India had them reeling at 75 for 7 before light and time-wasting tactics came to Sri Lanka's rescue.
Rohit made a Test comeback after over a year at Nagpur. Vijay returned to the side as well, and both batsmen marked the occasion with hundreds. Pujara got 143 and Kohli 213, and Ashwin wrapped up the Sri Lankans on Day Four. He became the quickest to 300 wickets and India's innings-and-239 run win became their joint-biggest margin.
Vijay and Kohli continued to pile up miseries in the Lankan camp. Vijay got 155 and Kohli marched to his Test highest 243. India were forced to declare at 536 for 7 as Sri Lanka ran out of fit fielders. The Delhi pollution had consumed them.
Another controversy surfaced and India were miffed by the Sri Lankan behaviour. While the issue remains debatable, it forced ICC to take pollution as a consideration category for commencement of games.
Sri Lanka did well to save the Test. Kohli led India to another series win. India became the only team after England and Australia to win 9 consecutive Test series. On a personal note, Kohli, who began the series with a duck, went on to score 610 runs from the next 4 innings.
Vijay marked his comeback with 2 hundreds in as many Tests and Rohit with 3 fifty-plus scores in as many innings.
India in Tests, 2017
Won series against Australia, Bangladesh and twice against Sri Lanka.
Best Batsmen
| | | | | | | | |
| --- | --- | --- | --- | --- | --- | --- | --- |
| Players | M | R | HS | Ave | SR | 100s | 50s |
| Cheteshwar Pujara | 11 | 1,140 | 202 | 67.0 | 45.9 | 4 | 5 |
| Virat Kohli | 10 | 1,059 | 243 | 75.6 | 76.2 | 5 | 1 |
| KL Rahul | 9 | 633 | 90 | 48.7 | 58.9 | 0 | 9 |
| Ajinkya Rahane | 11 | 554 | 132 | 34.6 | 51.1 | 1 | 3 |
| Shikhar Dhawan | 5 | 550 | 190 | 68.8 | 92.4 | 2 | 2 |
Best Bowlers
| | | | | | | | |
| --- | --- | --- | --- | --- | --- | --- | --- |
| Players | M | W | BB | Ave | SR | Econ R | 5w |
| Ravichandran Ashwin | 11 | 56 | 6-41 | 27.6 | 59.3 | 2.78 | 2 |
| Ravindra Jadeja | 10 | 54 | 6-63 | 23.1 | 56.5 | 2.44 | 3 |
| Umesh Yadav | 10 | 31 | 4-32 | 29.3 | 52.8 | 3.32 | 0 |
| Mohammed Shami | 5 | 19 | 4-100 | 23.5 | 43.5 | 3.23 | 0 |
| Ishant Sharma | 6 | 14 | 3-37 | 37.7 | 76.9 | 2.94 | 0 |
IPL
IPL had its share of controversies too. Ben Stokes fetched INR 14.5 crores from Rising Pune Supergiant (RPS), making him the most expensive overseas player in the tournament history.
RPS replaced Dhoni as captain with Smith. Dhoni was ridiculed a couple of times on Twitter by business tycoon Harsh Goenka, brother of RPS owner Sanjiv Goenka.
Smith eventually had a better laugh than Kohli in the IPL. Kohli's Royal Challengers Bangalore (RCB) met an all-time low as they finished last. Kolkata Knight Riders (KKR) mauled them in both games. RCB were bowled out for 49 in Kolkata. Later, in Bengaluru, they conceded 105 in the Powerplay overs.
Smith led RPS to the final of the tournament where they met Mumbai Indians (MI), a side they had beaten thrice in the tournament. Smith's fifty in the final went in vain as Pune cracked under pressure. Mumbai Indians won the title for the record third time.
Rohit has now won 4 IPL trophies — first with Deccan Chargers and now 3 with MI as their captain.
Gains
Limited-overs: Bumrah's rise in limited-overs, Jadhav's finishing skills, Pandya's emergence make the Men in Blue a formidable outfit. Pandya became the second player (after Kapil Dev in 1986) to achieve the double of 500 runs and 30 wickets in a calendar year in ODIs.
Fringe players like Rahul, Iyer, Karthik, Unadkat, Pandey and Akshar Patel did very well. In Chahal and Kuldeep India have found their wrist spinners in shorter versions. Rohit stepped to the next level and now stakes claim as the greatest ODI opener in modern cricket. Dhoni's newfound role as floater in the batting order has seen him play more freely.
Tests: India continued their reign as the No. 1 side. Coming back from 0-1 to win the intensely fought Border-Gavaskar Trophy was probably India's best moment of the year.
India are spoilt for choices when it comes to Tests. Rahul, Vijay and Dhawan have been in sublime form, which makes it a tough choice to pick two openers. India have a pool of pacers to choose from. Ashwin and Jadeja have been carrying on their brilliance and now Kuldeep has been added to the armoury.
Pandya made his Test debut and impressed immediately. In fact, he scored his first First-Class hundred in a Test. With overseas tours lined-up, his role will be important to India's success.
Lows
The Kumble-Kohli rift was the rock-bottom phase in Indian cricket this year. The episode could have been handled better. Kohli maintained a dignified silence and so did Kumble. The BCCI insiders could have gulped their egos and paved the exit for the legend in a better way.
Jayant Yadav faded away. Ashwin and Jadeja are no longer India's trump cards in limited-overs.
India struggled against quality spin (O'Keefe, Lyon, Dananjaya) and fell like ninepins when the ball moved. The Aamer spell at The Oval and the Lakmal spells in the Kolkata Test and the Dharamsala ODI raised doubts over the ability of succeeding overseas.
Viewing it in another way, the team has been very consistent and some lapses are bound to happen in order to maintain the law of the average.
2018
"When you do things in conditions that are more challenging, that gives you more job satisfaction, that is for sure," said Kohli ahead of India's departure to South Africa.
The green zone awaits them. Expect South Africa to be less kind after their humiliation in rank-turners in 2015-16. England and Australia are waiting with bated breaths. The first week of January itself presents Kohli's men a steep challenge with the first Test starting at South Africa. How they fare in 2018 will determine this team's legacy.
Radiuniverse Samsung S9 For Free
Want To Win - iPhone X (SOI) Click Here
Source : http://www.cricketcountry.com/articles/year-ender-king-kohli-reigns-2017-india-eye-greener-pastures-675283